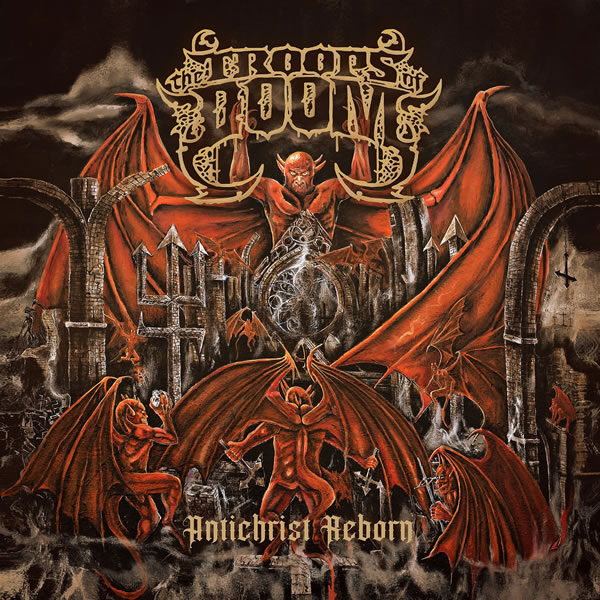 THE TROOPS OF DOOM
Titel: ANTICHRIST REBORN
Label: ALMA MATER RECORDS
Spieldauer: 39:41 Minuten
VÖ: 15. April 2022
Jairo "Tormentor" Guedz haut mit seinen THE TROOPS OF DOOM dem Hörer fast ununterbrochen herrlich straight, primitiv und brutal auf die heftig bangende Rübe.
Dass er das außerordentlich gut kann, hat der Sepultura Gitarrist der frühen Tage bereits mit seiner 2020 erschienen ersten EP "The Rise Of Heresy" bewiesen. Roh, dreckig und heftig atmet jetzt auch "Antichrist Reborn", der erste Longplayer der Brasilianer, den Geist des 80er Death und Thrash Metals und macht in seiner perfekten Wildheit einfach nur Spaß.
Was soll man als Rezensent groß dazu sagen, wenn die Riffs nicht sonderlich originell, versiert oder vertrackt sind, die Songs nicht mit irgendwelchen wilden Einflüssen daher kommen, sondern einfach nur pure Aggression im besten Sinne bieten und noch dazu den Old School Fan mitsamt dem berühmten Hocker einfach umhauen? Nicht mehr allzu viel denn, das Geballer ist einfach nur großartiges Futter für Fans der Anfangstage des Genres, die von den neun Songs (plus Intermezzo `Grief`) faktisch genötigt werden sich die Seele aus dem Leib zu bangen. Als Anspieltipp seien hier mal `Far From God` oder die Highspeed Nummer `Altar Of Delusion` genannt.
Aufgemotzt wird das grobschlächtige Material durch den fetten aber nicht zu modernen Sound, für den sich niemand Geringeres als Peter Tägtgren als Produzent verantwortlich zeichnet. Als Zusatz gibt es noch Gastauftritte von João Gordo (Ratos De Porao) sowie Krisiuns Alex Camargo und Moyses Kolesne.
Wer meckern will, kann natürlich bemängeln, dass das eine oder andere Riff schon mal von anderen Bands, so oder zumindest ähnlich aufs Band gebannt wurde. Nur was soll es, die Scheibe ist einfach zu häufig zwingend, um von solchen Kleinigkeiten ernsthaft berührt zu werden.
Killer ohne Filler!
Sven Bernhardt vergibt 9 von 10 Punkten