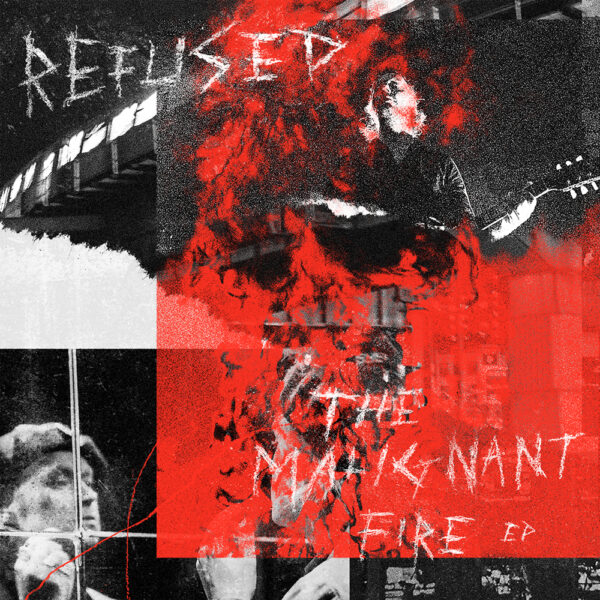 THE REFUSED
Titel: THE MALIGNANT FIRE
Spieldauer: 14:55 Minuten
The Refused werden wohl immer an ihrem Meisterwerk Shape of Punk to Come aus dem Jahre 1998 gemessen werden. Das ist, wie so oft, Fluch und Segen zugleich. Zum einen hat man ein Referenzwerk für sich, aber natürlich auch für die Konkurrenz, geschaffen und zum anderen schraubt man so die Erwartungen der Fans auf ein Niveau, dass allzu oft nur schwer zu erreichen ist.
Auch die neue 5 Track EP "THE MALIGNANT FIRE" wird "SoPtC" nicht in den Schatten stellen, soviel kann ich jetzt schon verraten. Geboten werden drei neue Songs (Organic Organic Organic (Go Fuck Yourself), Faceless Corporate Violence, Jackals Can't Be Bothered To Dream). Malfire wurde von Vorgängeralbum War Music übernommen und Born On The Outs ist eine Coverversion des Songs "Greyhound" von der Swedish House Mafia, wobei man das ursprüngliche Instrumental mit einem Text versehen und in angenehm grooviges Gewand gehüllt hat.
Wie bereits erwähnt, bleibt "Shape of Punk to Come" unerreicht. Aber ich denke, das muss auch gar nicht das Ziel sein, immerhin sind seitdem 22 Jahre ins Land gegangen. Man verfolgt den Weg des Vorgängers weiter und präsentiert sich alles in Allem eingängiger als früher, was aber keinesfalls als negativ zu verstehen ist. Die drei neuen Songs gehen gut ins Ohr, wenngleich ihnen etwas mehr Wut gut zu Gesicht gestanden hätte.
Mein Fazit: THE MALIGNANT FIRE ist ein absolut hörenswertes Werk geworden, dass durchaus Lust auf das nächste Full Length Album und die nächste Tour macht (wann auch immer diese stattfinden wird).
Melanie Pank vergibt 7,5 von 10 Punkten