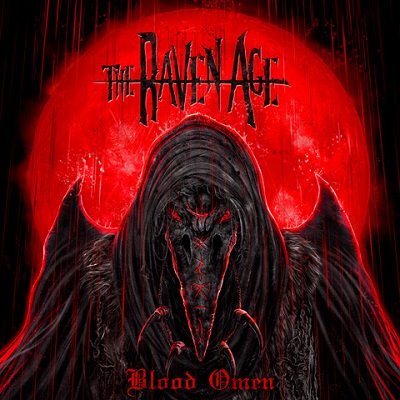 THE RAVEN AGE
Titel: BLOOD OMEN
Label: MUSIC FOR NATIONS/SONY MUSIC
Spieldauer: 37:21 Minuten
VÖ: 07. Juli 2023
Musikalität und musikalisches Talent sind wohl offenbar doch erblich, denn die britischen Metaller THE RAVEN AGE wurden 2009 in London von den beiden Gitarristen Dan Wright und George Harris, dem Sohn des Iron-Maiden-Bassisten Steve Harris, gegründet und veröffentlichen nun ihren dritten Silberling "Blood Omen".
Das Quintett fabriziert sehr nicen, zeitgemäßen und frischen Metal, der melodisch, packend und eingängig ist und Tradition und Moderne vereint. Das klingt dann mal eher nach den alten Helden, mal nach Stone Sour, Tremonti, Alter Bridge, melodischen Trivium und ähnlichen Vertretern.
Wie schon bei den beiden Vorgängeralbem "Conspiracy" (2019) und dem 2017er Debüt "Darkness Will Rise" ist das Motiv des Raben abermals von zentraler Bedeutung und der bandeigene "Raven King" rückt immer mehr in den Vordergrund.
Nach dem sehr britisch und sehr selbstbewusst `Changing of the Guard´ betitelten Intro legt der von Charles III. regierte Fünfer mit dem energetischen `Parasite´, welches ein Gastsolo von Andy James (Five Finger Death Punch) los und lassen die geniale Vorabsingle `Serpents Tongue´ folgen.
`Essence of Time´ und später `The Journey´ begeistern ebenfalls und zeigen wie moderner Stadionrock bzw. -Metal heute klingen kann, muss und sollte. Ebenso der hymnische Titelsong und das großartige `Tears of Stone´ mit seinem coolen Riff und seinem Hammerchorus.
Auf jeden Fall muss man noch die einwandfreie Gesangsleistung von Fronter Matt James und einige technische Details nennen. Mit Hilfe des langjährigen Produzenten Matt Hyde (Slipknot, Machine Head, Bullet For My Valentine) hat man den Grundstein für die Scheibe gelegt, bevor das restliche Material in Eigenregie aufgenommen wurde. Das finale Mastering lag in der Verantwortung von Mika Jussila (Nightwish, Children Of Bodom, HIM).
THE RAVEN AGE präsentieren ein fulminantes, abwechslungsreiches und putzmunteres Debüt und produzieren starke, kraftvolle, melodisch-hymnische Tracks en masse mit mitreißenden Melodien, guten Hooks und schicken Soli.
Michael Gaspar vergibt 8,5 von 10 Punkten