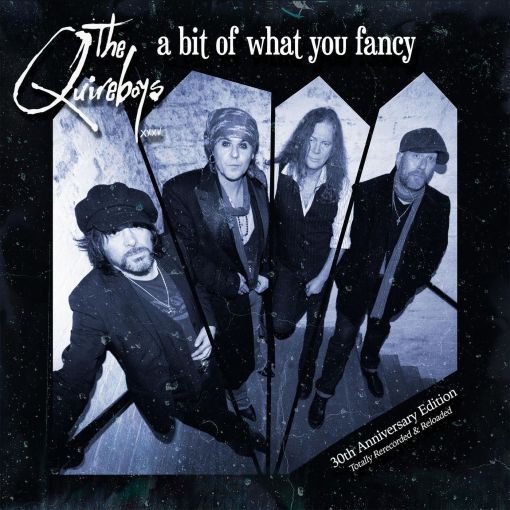 THE QUIREBOYS
Titel: A BIT OF WHAT YOU FANCY 30th ANNIVERSARY EDITION
Label: Off Yer Rocka Recordings
Spieldauer: ca 48:00 Minuten
Die QUIREBOYS veröffentlichen ihr Studio-Debütalbum von 1990 in der 30 Jahre Jubiläums-Edition. Eigentlich sind es ja schon 31 Jahre aber wer will da kleinlich sein, ist "A Bit Of What You Fancy" doch das Erfolgsalbum der Party-Rocker überhaupt. Den Opener '7 O'Clock' oder auch 'Hey You' und natürlich 'Sex Party' kennt jeder, der sich auch nur etwas mit Hard Rock in den letzten drei Jahrzehnten beschäftigt hat oder irgendwann einmal in einem entsprechenden Club war.
Zur Beruhigung aller wahren Fans, eins gleich vorweg. Das Album ist auch in der re-recorded Version noch immer ein absoluter Garant für gute Laune und liefert  im allerbesten Sinne tanzbare Partysongs. Das gelingt ja beileibe nicht allen neu aufgenommenen Alben, die oft gut gemeint aber schlecht gemacht sind. Hier nicht, hier bleibt der Zauber des Materials vollständig erhalten und erhält einen etwas frischeren Sound. Die minimal-inversiven Veränderungen im Hintergrund der einzelnen Stücke werden wohl höchstens absoluten Maniacs auffallen. Mal ein wenig mehr Gitarre, mal etwas veränderte Keyboards. Veränderungen im Mix aber definitiv nichts, was den ursprünglichen Geist der Songs stören könnte. Und so bleibt "A Bit Of What You Fancy", was es ist: ein Meilenstein im Party-Rock des vereinigten Königreichs und der Hard Rock Szene insgesamt.
Einschränkend könnte man vielleicht meckern, dass die Zusatzsongs von der 20 Jahre Edition in der neuen Version nicht enthalten sind aber die zwölf Originaltracks plus zwei extra Livesongs 'Man on The Loose' und 'Mayfair' (die mir nicht vorliegen) sollten auf jeden Fall für eine anständige Party genügen.
Sven Bernhardt vergibt keine Bewertung