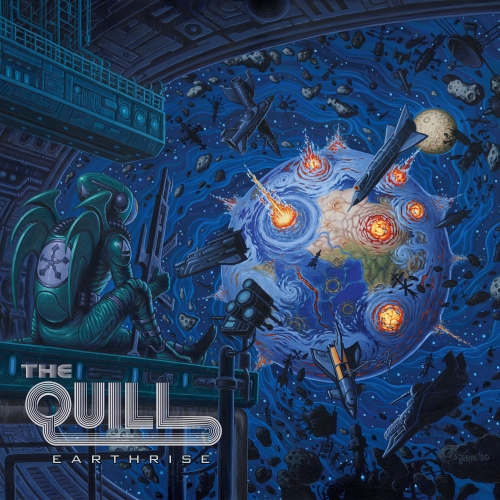 THE QUILL
Titel: EARTHRISE
Spieldauer: 47,27 Minuten
THE QUILL waren lange nicht auf meinem Schirm. Ich hatte die als eine der vielen Bands in Erinnerung, die während der Retro-Rock-Welle Mitte des ersten Jahrzehnts der 2000er mit nach oben gespült wurden. Um genau zu sein, erinnere ich mich daran, sie 2004 im Vorprogramm von Monster Magnet im Soundgarden Dortmund gesehen zu haben. Live fand ich THE QUILL ziemlich gut, jedoch hat es mich nicht dazu gebracht, mir Tonträger von ihnen zuzulegen. Und so stelle ich nun mit Erstaunen fest, dass es die Band schon seit Anfang der 90er gibt und "Earthrise" bereits das neunte Album der Band ist.
Habe ich also, gemessen am Inhalt dieses Outputs, irgendetwas Essentielles verpasst? Sagen wir es mal so, die Jungs wissen was sie tun. Instrumental ist hier alles im grünen Bereich, Sänger Magnus Ekwall trifft seine Töne, besitzt Ausdruck, hat aber auch etwas Austauschbares. Die Songs, die ausnahmslos retro-, aber nicht stonermäßig im Rock der 70er von Sabbath-Doom bis Heep und Zeppelin beheimatet sind, zeugen auch von solidem Songwriting. Ausreißer nach oben gibt es mit dem treibenden 'Keep On Rocking' und dem abwechslungsreichen 'The Zone' wenige, Ausreißer nach unten gar nicht. Die Produktion quillt (gnihihi) fett und authentisch trocken aus den Boxen. Kann man gut hören, auch mal so nebenbei. Und das ist dann auch die Krux. Man kann nichts Schlechtes an "Earthrise" finden, richtig mitreißen tut es einen aber auch nicht.
THE QUILL haben mit 'Earthrise' ein grundsolides Retrorockalbum abgeliefert, und ja, ich weiß, in den Ohren eines Musikers ist das Wort 'grundsolide' wie eine Ohrfeige. Wenn ich aber ähnlich gelagerte Bands wie z. B. Rival Sons oder Scorpion Child dagegen halte, ziehen THE QUILL immer den Kürzeren.
Dirk Eckhard vergibt 7,5 von 10 Punkten