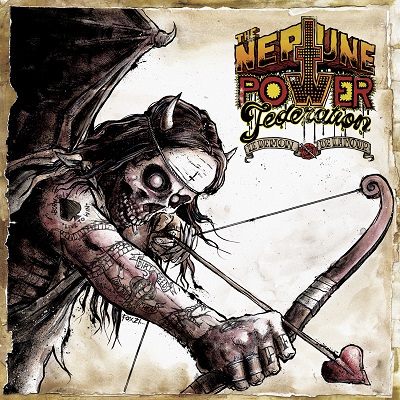 THE NEPTUNE POWER FEDERATION
Titel: LE DEMON DE L'AMOUR
Label: CRUZ DEL SUR MUSIC
Spieldauer: 39:20 Minuten
VÖ: 18. Februar 2022
Mit ihrem neuen, fünften Studioalbum wollen sich Sängerin Screamin' Loz Sutch alias "The Imperial Priestess das Liebeslied zurückerobern, welches bedauerlicherweise von "Softrockern, Bettnässern und der introvertierten Menge" requiriert wurde.
Neben der stimmgewaltigen Frontfrau tun dies Searchand DesTroy sowie Inverted CruciFox an den Gitarren, Jaytanic Ritual am Bass und River Sticks am Schlagzeug in Form eines Konzeptalbums mit acht Tracks über die Liebe.
Im Gegensatz zu ihrem sonstigen, eher düsteren, psychedelischen Sound präsentiert die australische Crew auf "Le Demon De L'Amour" einen nostalgischen Mix aus 70er Rock und 80er Hardrock gewürzt mit Stoner und Pop-Anleihen.
Die charismatische Sängerin röhrt dabei wie eine Mischung aus Janis Joplin, Courtney Love und Kim Wilde. Es entstehen kompakte, knackige Rocksongs wie das schmissige `My Precious One`, das grandiose `Loving You Is Killing Me` und das poppig-bluesige `Madly in Love`.
Die stets aus der weiblichen Perspektive verfassten Lyrics erzählen mit einem Augenzwinkern Liebesgeschichten über unter anderem Okkultes, Mord und Hypnose.
Stilistisch ein wenig aus dem Rahmen fällt da zum einen der progressiv angehauchte, achtminütige Opener 'Weeping On The Morn' – ein theatralischer, rockiger, vielleicht ein wenig zu langer Auftakt. Für das absolute Highlight sorgt aber das abschließende halbballadeske, eingängige Duett `We Beasts Of The Night`.
Fazit: die Scheibe bietet überraschenden, unterhaltsamen und qualitativ hochwertigen Partyrock mit einigen großartigen Songs und einer phänomenalen Sängerin.
Michael Gaspar vergibt 7 von 10 Punkten