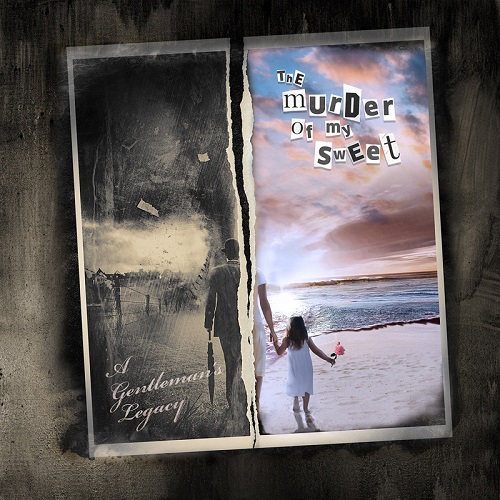 THE MURDER OF MY SWEET
Titel: A GENTLEMAN´S LEGACY
Spieldauer: 68:31 Minuten
"A Gentleman´s Legacy", das sechste Studioalbum der schwedischen Symphonic/Modern/Hard Rocker THE MURDER OF MY SWEET, ist ungewöhnlicher- und interessanterweise die Fortführung des Drehers "A Gentleman´s Hurricane" der schwedischen Prog Metaller Mind´s Eye aus dem Jahr 2007.
Frontfrau Angelica Rylin verkörpert die Protagonistin Pandora Evangelista, welche zwischen der Rache für das Schicksal ihres Vaters (der Gentleman) und ihren eigenen Gewissensbissen hin- und hergerissen ist. Dieser Zusammenhang erklärt vermutlich auch die teilweise deutliche Prog-Schlagseite der aktuellen Scheibe.
Los geht's nach dem epischen Intro 'Six Feed Under' allerdings erstmal mit zwei echten Hardrock-Ohrwürmern, neben 'A Ghost Of A Chance' glänzt vor allem 'Damnation' mit einem Hammer-Chorus. Es scheint, als würden die schwierigsten lyrischen Themen in die eingängigsten Songs verpackt, so ist dies auch später beim grandiosen 'Kill Your Darlings' der Fall.
Im Folgenden steigert sich der Proganteil etwas, vor allem in den Gitarren, aber sehr stark auch in den Keyboards kommen irrwitzige Läufe und atemberaubende Soli zustande, die allerdings ein wenig auf Kosten der Eingängigkeit gehen. 'The Wheels Of Time' ist hierfür ein gutes Beispiel.
'Fathers Eyes' fällt wieder eher in die Kategorie entspannter Hardrock und 'Rise Above' ist eine gefühlvolle Halbballade mit gutem Refrain, ehe 'Trick Of The Devil' und 'Heads Or Tails' wieder deutlich elektronischer und progressiver zu Werke gehen.
'Finding Closure' setzt schließlich den hymnisch-majestätischen Schlusspunkt unter eine hochklassige, sehr abwechslungsreiche und interessante Platte mit zehn richtig guten Songs und einem überragenden Finale.
Michael Gaspar vergibt 8 von 10 Punkten