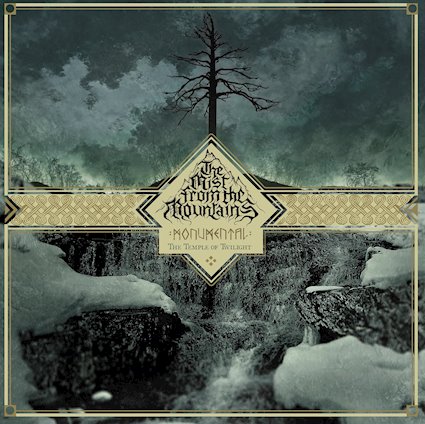 THE MIST FROM THE MOUNTAINS
Titel: MONUMENTAL: THE TEMPLE OF TWILIGHT
Label: PRIMITIVE REACTION
Spieldauer: 37:43 Minuten
Mondän und mächtig beginnen die Finnen von THE MIST FROM THE MOUNTAINS ihr Debütalbum "Monumental: The Temple of Twilight". Epischer Black (Heavy) Metal mit klaren Verweisen auf Borknagar, Old Mans's Child oder Dimmu Borgir. 
Die Songs sind ausladend und mit vielerlei Keyboarduntermalung bestückt. Insgesamt recht modern produziert, aber allzu glatt ist das dann glücklicherweise nicht. Melodisches Riffing und weitere typische Trademarks wie den klare Fokussierung auf das Naturthema untermauern den Bezug zu den oben genannten Bands. Schickes Klaviergeklimper ('A Paean to fire') oder den Einsatz weiblicher Sangesmomente ('Thus stake the tongueless Serpent') zeigen, wie die Finnen sich im Genre-typischen Musikbaukasten bedienen. Damit erzeugen sie für einige wenige Momente Atmosphäre. Allerdings bleibt diese über das Album nicht wirklich nachhaltig erhalten. Manchmal wirken die Tracks zu sehr an diesen Baukastenelementen ausgerichtet. Eine eigene Linie ist nicht so wirklich zu erkennen.
Fazit: Insgesamt ist diese Scheibe von THE MIST FROM THE MOUNTAINS zu keiner Zeit zwingend, Melo-Blackies sollten sich aber durchaus ein eigenes Bild machen. Für meine Begriffe zu gefällig.
Ingo Holzhäuser vergibt 6 von 10 Punkten