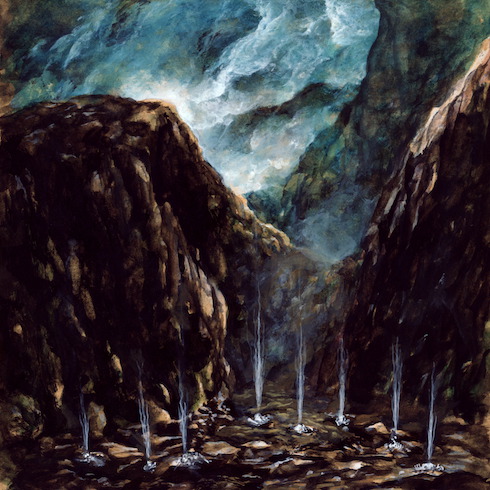 THE LONE MADMAN (VINYL RE-RELEASE)
Titel: LET THE NIGHT COME
Label: JOURNEY`S END RECORDS
In Zeiten, in denen die Vinyl-Preise durch die Decke gehen und aktuelle Releases von den größeren Labels gerne schon mal für 30 Teuros angeboten werden – wie zuletzt bei der neuen Witherfall der Fall – kann man ein Underground Label wie Journey`s End, das eine tolle Scheibe wie diese unter 20 Talern anbietet, gar nicht hoch genug loben. Und wir sprechen hier von einer limitierten Auflage von 300 Stück in größtenteils farbigem Vinyl mit einem wunderschönen Cover!
Natürlich bringt das alles nur etwas, wenn auch die Musik etwas taugt und das ist bei den finnischen Doomstern von The Lone Madman absolut gegeben. Man zitiert ja normalerweise nicht aus dem Promotext, aber hier trifft es den Nagel so dermaßen auf den Kopf, dass ich einfach eine Ausnahme machen muss:
"Finland has a tradition of great doom bands and yet the purest form of this music has become rare in recent history as more and more bands stray from the path of true doom into the swamps of stoner, the forests of occultism or fall prey to other temptations. Not so The Lone Madman who forges the truest of true doom in the Finnish fashion. Not the repetitive boredom of fuzzy stoner riffs or the overtly mysterious atmospheric follies of occultism, just powerful riffs and great emotional vocals that tell of sorrow and steadfastness in four long songs that will leave you wanting more."
Herrlich! Spricht das nicht jedem old-school Doomhead aus tiefstem Herzen?! Auf "Let The Night Come" treffen wehklagende SloMo-Riffs auf den ergreifenden Gesang von Turkka Inkilä und kreieren dadurch eine gleichsam beklemmende wie betörende Stimmung, so wie man es den von Genregrößen Candlemass, Solitude Aeturnus und Isole, zu deren besten Zeiten, kennt.
Dazu kommt das Stilmittel der Querflöte, das THE LONELY MADMAN beim Achteinhalb-Minüter 'Häxan" ein wenig in Richtung Blackkout und The Last Things rückt. Die restlichen drei Stücke sind allesamt zwischen elf und dreizehn Minuten lang, wirken jedoch zu keinem Zeitpunkt langatmig oder gar langweilig. Egal ob der eröffnende Titeltrack, 'The Downfall' oder das abschließende 'House Of Mourning' mit seinen sakralen Gesängen, allesamt Volltreffer skandinavischer Doomkunst im Breitbandformat.
Bei Interesse wendet ihr euch am besten gleich an Labelchef Martin Knötzele himself (martin@journeysend.de) oder besucht direkt seinen Ebay-Shop und ordert diese tiefschwarze oder auf Wunsch auch giftgrüne Sahneschnitte für läppische € 16,90. Dort gibt es noch mehr guten Stoff für Doomjunkies wie Altar Of Oblivion und Death The Leveller, also nix wie ran an die Buletten!
Alex Fähnrich vergibt 8,5 von 10 Punkten