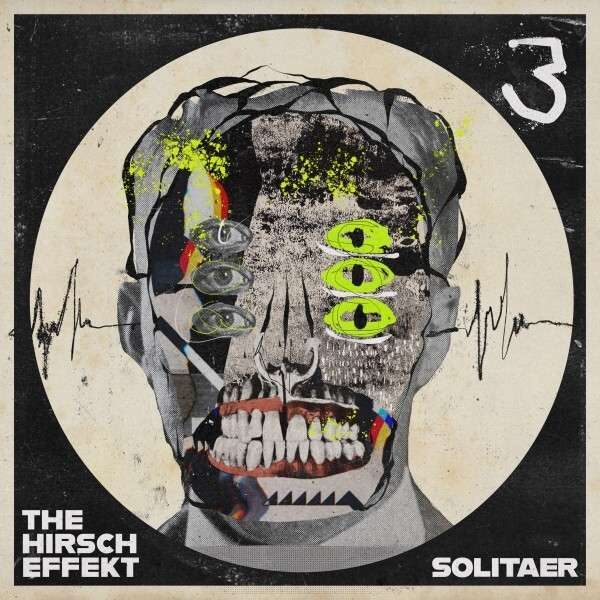 THE HIRSCH EFFEKT
Titel: SOLITAER (EP)
Label: LONG BRANCH RECORDS
Spieldauer: 51 Minuten
VÖ: 26.08.2022
Die Musik von THE HIRSCH EFFEKT wird nicht umsonst als Artcore bezeichnet. Was dieses Trio aus Hannover seit nunmehr anderthalb Jahrzehnten erschaffen hat, erweckt mehr den Eindruck eines Künstlerkollektivs, denn einer Musikband. Alleine die abgefahrene Mucke, die eigenwilligen Songtitel und -texte, sowie die energetische Liverperformance machen "den Hirsch" einzigartig.
Mit der "Solitaer"-EP haben sich die drei Jungs etwas ganz Besonderes einfallen lassen: Inspiriert von der Corona-bedingten Isolation beschloss man, dass jeder Musiker einen Song im Alleingang schreibt und alle Instrumente einspielt. Für Drummer Moritz bedeutete dies zum ersten Mal einen Song einzusingen, was ihm bei 'Amorphus' sehr gut gelungen ist.
Überhaupt ist es total beeindruckend, wie alle drei Bandmitglieder diese Aufgabe einerseits völlig individuell angegangen sind und es andererseits geschafft haben, dass alle drei Songs zu einhundert Prozent nach THE HIRSCH EFFEKT klingen. Denn auch 'Nares', der Beitrag von Nils, und Iljas 'Palingenesis', welches "Solitaer" eröffnet, tragen eindeutig die gleiche Handschrift.
Den Abschluss macht 'Gregaer', von der gleichnamigen 2020iger EP, das hier in einer neuen Version aufgenommen wurde. Die gesamte "Gregaer"-EP ist auf "Solitaer" als Bonus enthalten. Diese stellt ebenfalls ein interessantes Experiment mit Orchester dar, welches die Band zu Beginn der Pandemie startete, um die konzertfreie Zeit zu überbrücken.
Wer THE HIRSCH EFFEKT kennt, weiß was ihn hier erwartet, für alle Anderen ist diese Veröffentlichung der perfekte Einstieg in die Welt dieser Ausnahmekünstler, die ständig zwischen Genie und Wahnsinn zu wandeln scheinen. Also lasst den Hirsch auch bei euch ordentlich röhren und schaut ihn euch live bei der anstehenden Tour an, es lohnt sich!
Alex Fähnrich vergibt 8,5 von 10 Punkten