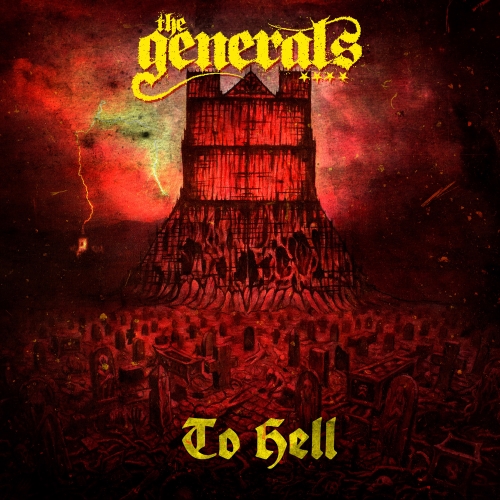 THE GENERALS
Titel: TO HELL
Label: BLACK ZOMBIE RECORDS
Spieldauer: 39:01 Minuten
Als L-G Petrov (R.I.P.) und Entombed 1993 den Wolverine Blues hatten, stießen sie zwar mit der Veröffentlichung des gleichnamigen Albums einigen ihrer Anhänger vor den Kopf, erschufen aber gleichzeitig ein eigenes Subgenre, den Death'N'Roll. Es blieb zwar eine kleine Bewegung, hat aber bis heute seine Verfechter. Mit besonders viel Herzblut hielten bisher THE GENERALS die Fahne des Death'N'Roll hoch. Auch wenn man nun feststellen muss, dass auf dem dritten Album "To Hell" der (Schweden)-Death dem Rock'N'Roll deutlich den Rang abgelaufen hat.
Herausgekommen ist dabei eine Abrissbirne im klassischen und von Thomas Skogsberg herrlich fett produzierten HM2-Soundgewand, die überwiegend mit Höchstgeschwindigkeit auf den Hörer einschlägt. Rein subjektiv würde ich da als Anspieltipps wohl zu 'Evolution Of The Flesh', 'Locate Decapitate Incinerate', 'Deadlock' aufgrund seiner Walzigkeit und 'Bombardment' tendieren. Aber eigentlich ist es auch schnurzpiepegal welchen Song man von "To Hell" laufen läßt, das Aggrolevel, sowohl musikalisch wie stimmlich (was für ein herrlich viehisches Gebrüll von Rickard Hednar) wird durchgehend hochgehalten. Dabei lassen die durchaus melodischen Gitarreneinschübe trotzdem keinerlei Langeweile aufkommen. Schweden-Death-Fanatiker werden von THE GENERALS schlicht und ergreifend rundum anständig bedient.
Wie schon gesagt, den Anteil an Roll muss man auf diesem Album mit der Lupe suchen, und das könnte so manchen alten Anhänger von THE GENERALS mindestens ebenso vor den Kopf stoßen wie Entombed 1993. Wer auf eine straightere Version von Lik oder Demonical Bock hat, wird von "To Hell" nicht enttäuscht sein.
Dirk Eckhard vergibt 8,5 von 10 Punkten