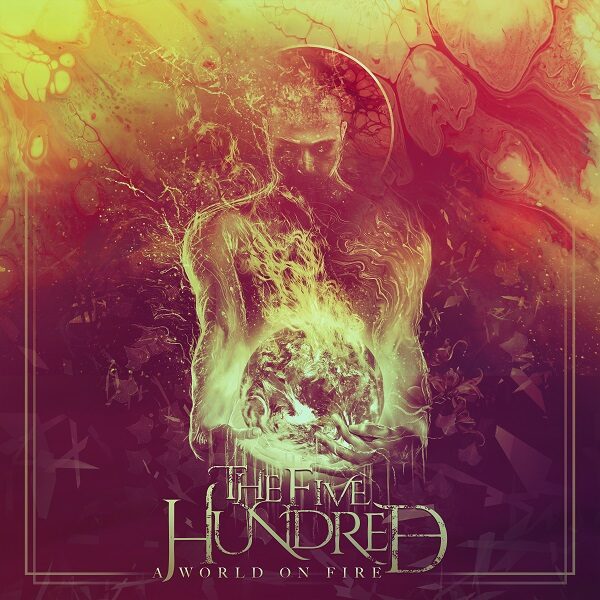 THE FIVE HUNDRED
Titel: A WORLD ON FIRE
Label: LONG BRANCH RECORDS
Spieldauer: 41:13 Minuten
"A World On fire" ist der zweite Longplayer der britischen Metal-Band THE FIVE HUNDRED nach dem Debüt "Bleed Red" (2018). Den modernen Metal-Sound des Fünfers aus Nottingham zu beschreiben und einzuordnen ist gar nicht so leicht. Er verbindet Härte und Aggression einerseits mit Emotionalität und Melodie auf der anderen Seite. Also eigentlich dem Metalcore zuzuordnen, aber ich finde, dass wir es hier vor allem wegen der heiseren Screams und kalten, treibenden Riffs in Verbindung mit melodischen, eingängigen Refrains eher mit Melodic Death der Marke Soilwork oder Scar Symmetry zu tun haben.
Als gute Anspieltipps eignen sich die drei vorab veröffentlichten Tracks 'Black Dogs', 'The Rising Tide' und 'Our Demise'. Manchmal geht es härter zur Sache, somit beinahe in Richtung Deathcore ('Our Curse) oder die Band kommt mit ziemlich viel Groove und deutlich eingängiger um die Ecke ('Walls Of Jericho').
Mein persönlicher Favorit ist aber das packende 'With Scars' mit seinem Hammer-Chorus. Auch 'Agony' weiß zu gefallen und stellt das musikalische "Prinzip" mit einer cleanen, melodischen Strophe und dem aggressiven Refrain kurz mal auf den Kopf. Für Variabilität ist also eigentlich gesorgt und doch könnten die zehn Songs sich noch mehr voneinander unterscheiden und der letzte Funke will auch nicht so recht überspringen.
Hervorzuheben sind jedoch die tiefgreifenden Texte, die passend zum Albumtitel heiße Eisen wie den Klimawandel, Verschwörungstheorien, die Auswirkungen der Pandemie und mentale Gesundheit bis hin zu Selbstmordgedanken anpacken. Dabei wird eindeutig Stellung bezogen und bewusst kein Raum für Interpretationen oder Mehrdeutigkeiten gelassen.
"A World On Fire" ist ein deutlicher Fortschritt zum Debüt und somit ein durchaus starker Zweitling mit meinungsstarken Lyrics, dem es teilweise nur noch ein wenig an Eigenständigkeit und Abwechslung fehlt.
Michael Gaspar vergibt 7,5 von 10 Punkten