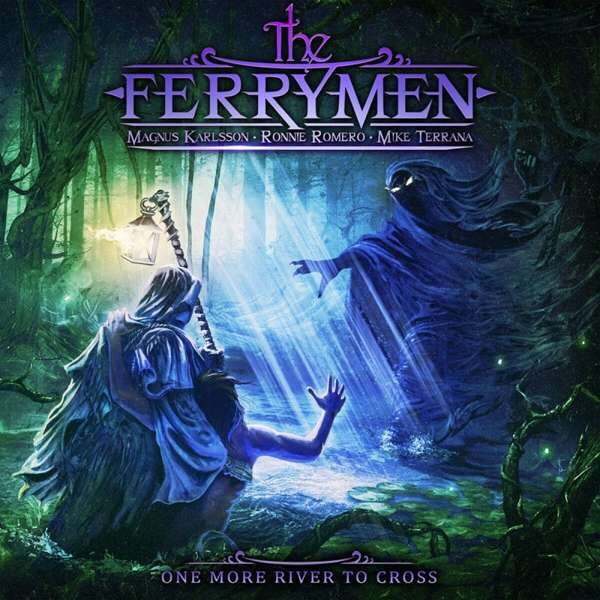 THE FERRYMEN
Titel: ONE MORE RIVER TO CROSS
Spieldauer: 56:25 Minuten
"One More River To Cross" ist nun auch schon der dritte Longplayer der illustren Truppe THE FERRYMEN, die sich aus dem schwedischen Gitarristen, Songwriter und Produzenten Magnus Karlsson (Primal Fear, Magnus Karlsson's Free Fall), Sänger Ronnie Romero (Lords of Black, Sunstorm, Rainow) und Drummer Mike Terrana (Rage, Axel Rudi Pell) zusammensetzt.
Das Trio zelebriert melodischen, traditionellen Heavy Metal und was die drei Musiker da aufs Parkett zaubern ist einerseits beeindruckend und musikalisch natürlich über jeden Zweifel erhaben. Andererseits schleicht sich gefühlt auch etwas Routine (um nicht zu sagen Langeweile) ein.
Die Stimme Romero´s, dessen größter Fan ich zugegebenermaßen auch nicht mehr werde, ist ihrer enormen Präsenz und ihrem hohen Wiedererkennungswert geschuldet schon arg dominant im Sound der Band, was den Stücken nicht immer guttut. Zudem vermisse ich ein paar Innovationen, aber vor allem echte Emotionen und so richtig packende Songs.
Trotzdem gibt es hier mit dem gelungenen Opener 'One Word', dem harten 'City Of Hate' und dem flotten 'Hunt Me To The End Of The World' natürlich einige Schmankerl für den klassischen Banger zu entdecken.
Weiteres interessantes und kurzweiliges Futter für die genannte Zielgruppe dürften das hymnische 'One More River To Cross' und das schnelle 'Bringers Of The Dark' sein, welche beide über gelungene Orchestrierungen, Chöre und packende Soli verfügen.
Da ich weiteren leidlichen Songs wie der theatralischen (Halb-)Ballade 'Morning Star' oder dem abschließenden 'The Passenger' recht wenig abgewinnen kann und mir bei manchem Stück lieber vorstelle, wie gut, frisch und modern er mit einem anderen Sänger klingen könnte, bleibt es bei einem wenig berauschenden Eindruck von "One More River To Cross".
Michael Gaspar vergibt 6 von 10 Punkten