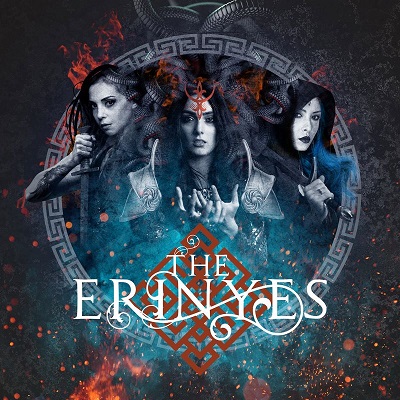 THE ERINYES
Titel: THE ERINYES
Spieldauer: 48:14 Minuten
VÖ: 16. September 2022
Die Erinnyen oder Erinyen, auch "die Rasenden" genannt und bei den Römern als die Furien bezeichnet, sind in der griechischen Mythologie die drei Rachegöttinnen Alekto ("die Unaufhörliche"), Megaira ("der neidische Zorn") und Tisiphone ("die den Mord Rächende").
In unserem musikalischen Kontext stecken hinter dem neuen Symphonic Metal Projekt THE ERINYES drei äußerst talentierte, multinationale Sängerinnen sowie Songwriter, Komponist und Produzent Aldo Lonobile (Secret Sphere, Timo Tolkki's Avalon, Archon Angel).
Justine Daaé ist Frontfrau der französischen Symphonic/Industrial Metaller Elyose, Mizuho Lin von den brasilianischen Symphonic/Dark Metal Kollegen Semblant bekannt und Nicoletta Rosellini ist eine italienische Sängerin mit den beiden Hauptbands Walk In Darkness und Kalidia. Der selbstbetitelte Debütsilberling ist ein Konzeptalbum über drei Amazonen und ihren akuten Disput in Liebesdingen.
Die zwölf Kompositionen sind nicht revolutionär oder besonders originell, aber durch die Bank modern, harmonisch, unterhaltsam und schon allein aufgrund der drei verschiedenen Stimmen recht unterschiedlich und abwechslungsreich.
Mir persönlich gefallen mit dem hymnischen `Where Do We Go´ und dem treibenden `It´s Time´ zwei schnelle, epische Songs mit verteilten und mehrstimmigen Gesängen und chorähnlichen Passagen am besten.
Aber auch die drei Vorabsingles das leise mit Pianoklängen beginnende, sich steigernde `Drown The Flame´, das wütende, rifflastige `Betrayed´ und `Death By A Broken Heart´ mit seinem Gitarrensolo geben einen guten Einblick und können dem Fan gediegener, nicht allzu bombastischer Symponic Metal Kost empfohlen werden.
Des Trios Erstwerk ist zeitgemäß, kurzweilig und im Rahmen des female fronted Symphonic vielseitig und für Fans von Beyond The Black, Delain, Unleash The Archers, Amaranthe, Metalite und etlichen anderen Genrevertretern einen näheren Blick wert.
Michael Gaspar vergibt 7,5 von 10 Punkten