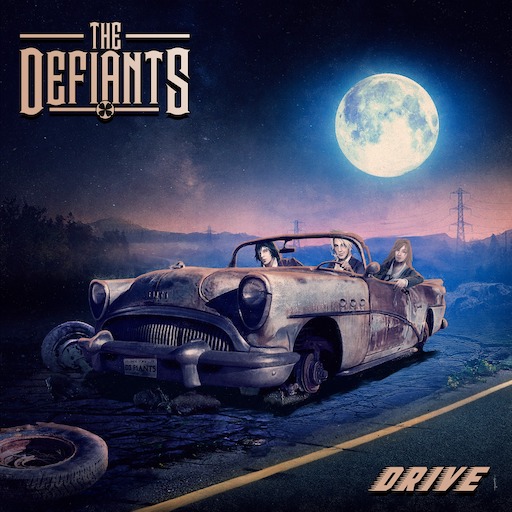 THE DEFIANTS
Titel: DRIVE
Spieldauer: 53:08 Minuten
VÖ: 09. Juni 2023
Die drei aktuellen bzw. im Falle von Sänger Paul Laine ehemaligen Mitglieder der New Yorker AOR/Hardrocker Danger Danger, namentlich Bruno Ravel am Bass und Gitarrist Rob Marcello, bilden die Melodic Rocker THE DEFIANTS.
Diese lassen dem selbstbetitelten Debütalbum von 2015 und dem Nachfolger "Zokusho" (2019) nun das Drittwerk "Drive" folgen. Das Lineup wird komplettiert von Drummer Van Romaine. Die Band kündigt eine großes Melodic Rock Album mit packend-eingängigen Refrains, tollen Melodien sowie mitreißenden Gitarren und starken Vocals an.
Und man möchte noch hinzufügen: für das Genre erfreulich wenig Synthieglitzer, der äußerst dosiert und nur songdienlich zum Einsatz kommt. Und das Versprechen hält das US Quartett und löst es mit den elf neuen Tracks ein.
Dabei erweisen THE DEFIANTS sich gleichermaßen als Meister des gepflegten Rocksongs wie unter anderem bei der Vorabauskopplung `Go Big Or Go Home´ und dem grandiosen `Against The Grain´ sowie der großartigen AOR/Hardrock Ohrwürmer wie bei `19 Summertime´ und `The Night To Remember´ perfekt umgesetzt.
Zudem und vor allem entpuppt sich die Vier aber auch als absolute Könner des unprätentiösen und unaufdringlichen Lovesongs, wovon `Miracle´, `Love Doesn't Live Here Anymore´ und das starke `Another Time, Another Place´ in wahrsten Sinne des Wortes ein Lied singen können.
Gute bis sehr gute Melodic Rock Scheibe mit viel Drive, Eingängigkeit und Abwechslung.
Michael Gaspar vergibt 7,5 von 10 Punkten