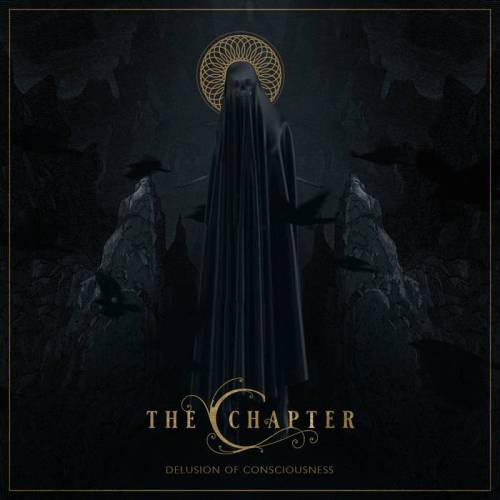 THE CHAPTER
Titel: DELUSION OF CONSIOUSNESS
Spieldauer: 46:03 Minuten
VÖ: 22. April 2022
Man sollte meinen, dass wenn eine Band aus dem eher sonnigen Portugal stammt ihre Mucke lebensbejahend und positiv daher kommt.
Nun, bei der fünf-köpfigen Truppe aus Lissabon namens THE CHAPTER trifft dies eher weniger zu. Schon das Artwork ist bezeichnend für die düstere Stimmungslage der acht Songs.
Doom/Death Fans, die auch einen Hauch von Gothic in der Lage sind zu akzeptieren, haben allerdings ihre Freude an dem zweiten Langeisen der Truppe von der iberischen Halbinsel und werden bei Tracks wie dem fetten Groover und gleichzeitigen Titeltrack 'Delusion Of Consiousness' mit seinem kurzzeitigen Speed Ausbruch, dem mit einem melodischen Riff versehenen Death/Doomer 'Compos Mentis', dem abwechslungsreichen 'Social Solitude' und meinem persönlichen Favoriten 'In This Place', einem pumpenden Banger mit luftig, melodischen und ruhigen Parts, wohlwollend langsam mit bangen.
Die überwiegend growlende vokalakrobatische Leistung, aber auch der partiell eingesetzte Klargesang, passen gut zur Mucke, so dass ich THE CHAPTER allen Freunden von Bands wie Swallow The Sun, älteren Opeth oder älteren Katatonia ans Herz legen kann.
Ludwig Lücker vergibt 8 von 10 Punkten