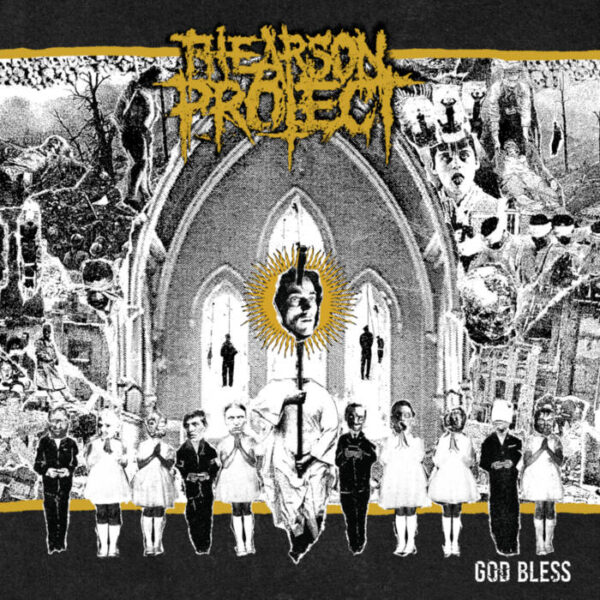 THE ARSON PROJECT
Titel: GOD BLESS
Label: SELFMADEGOD RECORDS / LIXIVIAT RECORDS
Spieldauer: 18:46 Minuten
VÖ: 18. Juni 2023
Seit 2005 lärmen THE ARSON PROJECT aus Malmö in einem Hardcore/Fastcore/Powerviolence und Grindcore Cocktail durch den Untergrund. Das Motto der Band "Playing fast since 2005" passt dann auch auf die zweite vollständige LP. Ja, der Tonträger bezogene Output der Truppe aus Südschweden behält sich recht übersichtlich: Demo, EP, Split und zwei LPs. 
Doch nun zu "God Bless", einem fast 19-minütigen musikalischem Massaker aufgeteilt in zehn Songs. Ganz in alter Hardcore-Tradition nehmen THE ARSON PROJECT soziale Missstände ins Visier. Klerikale Doppelmoral, Tierquälerei, raffgieriger Kapitalismus und anachronistische Hörigkeit sind die wesentlichen Themen. Vokaltechnisch bellen hier alle vier Bandmitglieder wahlweise zusammen oder abwechselnd ins Mikro und sorgen so für einen reichhaltigen äh, nennen wir es  "Gesang". THE ARSON PROJECT verbleiben mit dieser Veröffentlichung auf dem  Pfad, den sie mit ihrer EP Blood and Locusts vor acht Jahren eingeschlafen haben. Kurze, heftige Attacken, dynamischer Grind mit Kompositionen auf den Punkt. Da gibts keine Note zu viel, die Eruptionen sind gekonnt und wirken stets authentisch. Aufgrund der wenigen Songs und der insgesamt dürftigen Banddiskographie könnte man positiv betrachtet auch unterstellen, dass THE ARSON PROJECT mit Bedacht und sehr zielsicher komponieren und veröffentlichen. 
Anyway, die Scheibe macht Spaß, zwei- oder dreimal hintereinander geht auch. Schönes Grindcore Scheibchen. Am Besten zu beziehen bei der Band selbst.
Ingo Holzhäuser vergibt 8,5 von 10 Punkten