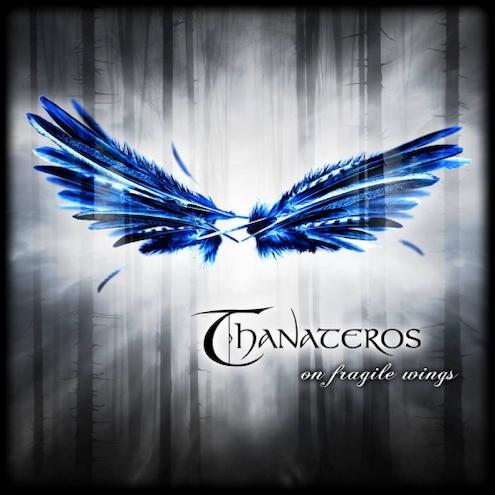 THANATEROS
Titel: ON FRAGILE WINGS
Spieldauer: 57:28 Minuten
VÖ: 25. März 2022
Was erwartet man von den lang zurückgekehrten THANATEROS? Gut gemachten Gothic Rock bzw. Metal  und den gibt es in gewohnter Manier.
Zum bekannten Gothic Rock und Metal Stilmix, mit mehr oder minder stark ausgeprägten Folkelementen , wie beim upspeed Song `Burn` der durchaus zu gefallen weiß, kommen die immer angenehm rauhen Vocals. Eine anständige Produktion, die obligatorischen Geigen und ein gekonntes Spiel zwischen Härte, Emotion und Melodik runden "On Broken Wings" ab. Als Tipp sei hier gleich mal 'Source Of It All' genannt der, die aktuelle Ausrichtung facettenreich der Band wiederspiegelt.
Bei aller Rockigkeit der zwölf Songs, sind genretypische Eingängigkeit und Stiltreue auch auf dem neuen Longplayer beständig prägende Elemente, wobei der Gesamteindruck durchaus etwas stärker als "back to the roots" und gelegentlich auch härter als bei den letzten Veröffenlichungen, zu beschreiben ist un dennoch zum feiern und mitsingen einlädt.
Eine weitere Tradition des dunkel-Quintetts ist der Gastauftritt einer Sängerin. In diesem Fall Johanna Krins von Arctic Relief bzw. Delva, die bei melodischen und dunkel- folkigen  'Coven Of The Drowned' sowie in dem leicht melancholisch balladesken 'Solitude' als Counterpart zu Ben Richter.
Erwähnenswert ist auf jeden Fall die Kate Bush Coverversion von `Running Up That Hill`, die auch im THANATEROS Gewand funktioniert und gerade live zu einem echten Knaller werden könnte.
Als Fazit bleibt nur zu sagen, Fans werden garantiert ihre Freude an dem starken Album haben.
Sven Bernhardt vergibt 8 von 10 Punkten