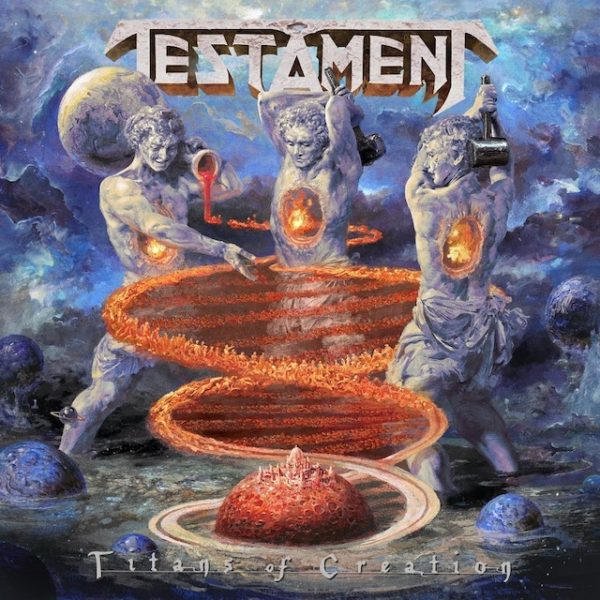 TESTAMENT
Titel: TITANS OF CREATION
Spieldauer: 60:35 Minuten
Auf die Thrashveteranen von TESTAMENT ist echt Verlass. Mit einer gleichbleibend hohen technischer und songmäßiger Qualität veröffentlichen Chuck Billy, Eric Peterson und Co. regelmäßig Alben, die für viele Bands schlichtweg unerreichbar sind.
Klar kann man anmerken, dass der Stil und das Songwriting in den letzten Jahren kaum erneuert wurden aber wer will denn das? Die Fans bestimmt nicht, denn sie supporten die Band seit Jahren wegen ihrer ganz eigenen Art von Power, Aggression, Melodien und Hooks.
Aber widmen wir uns mal den zwölf Songs etwas näher. Der Opener "Children Of The Next Level" ist ein so typisches Stück: Uptempo aber nicht rasend schnell, Doppleharmonien, abwechselnde Soli, anständige Riffwechsel. Wesentlich zügiger und direkter geht dann "WW II" zu Werke, ein echter Thrash-Headbanger! "Dream Deceiver" hingegen hat einen regelrecht Catchy Refrain, insbesondere wenn man direkt danach "Night of the Witch" mit seinem brutalen Vocals hört. "City Of Angels" ist wieder anders: langsamer und Chuck Billys  Stimme ist fast psychotisch und experimentiert mit verschiedenen Stimmungen. Aber auch hier gilt: Häufige z.T. sogar progressiv erscheinende Tempiwechsel und Gene Hoglans Power-Drumming sind allgegenwärtig. "False Prophet" und vor allem "Curse Of Osiris" mit seinem Black Metalartigen Einsprengseln gehen wieder in die Richtung "schnell und dreckig" Thrash. Anstatt jetzt jeden Song abzufrühstücken: 'Titans' ist ein wirklich gutes, typisches TESTAMENT Album, dem man vielleicht vorwerfen könnte, dass es mit über sechzig Minuten zu lang ausgefallen ist aber hey, das kann man als "value for money" beschreiben.
Sven Bernhardt vergibt 8 von 10 Punkten