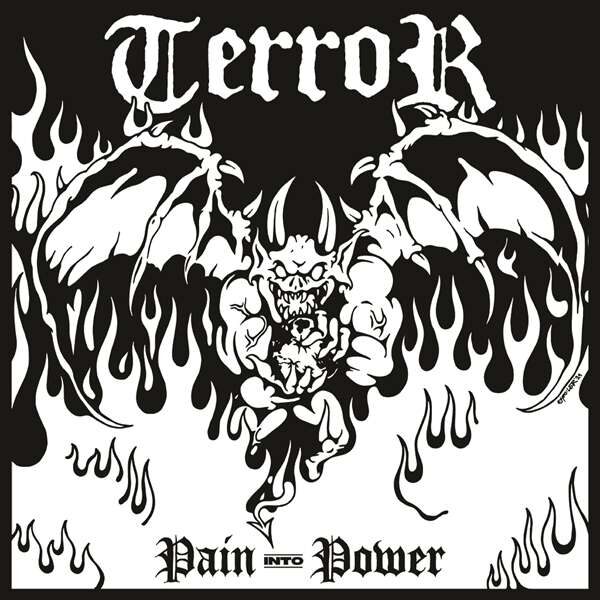 TERROR
Titel: PAIN INTO POWER
Spieldauer: 18:11 Minuten
VÖ: 06. Mai 2022
Was ist denn hier los? TERROR waren ja noch nie Kinder von Traurigkeit. Aber dieser Knüppel, den die Los Angeles Hardcore Truppe hier mit "Pain into Power" eingetrümmert haben, ist von allerfeistester Güte.
Wie ein Orkan pflügen TERROR durch die Boxen, Scott Vogel bellt wie ein angestochener Pitbull, die Jungs geben Gas ohne Ende und vermissen die prägnanten Beatdowns dabei keineswegs. 'Boundless Contempt' zum Beispiel, mit knapp über zwei Minuten schon fast eine epische Ausfahrt, knattert brutal ins Gemächt und rüttelt am Schluß nochmal gemächlich über seine Opfer drüber.
An der Gästefront haben TERROR auf "Pain into Power" auch die Nase vorn: der ehemalige Gitarrist Todd Jones (Nails) dreht Knöpfchen und musiziert vokal bei 'The hardest thruth' mit. Bei 'Can't help but Hate' röhrt niemand geringeres als George Corpsegrinder Fisher mit ins Mikro.
TERROR verstehen sich aufs Äußerste auf metallischen und brutalen Hardcore. Straight, knallig, in-your-face und ehrlich. Seit nunmehr 20 Jahren fahren sie diesen Sound und bringen jeden in ihren intensiven Live-Shows in Schweiß und Ekstase. So gesehen sind sie neben wenigen anderen die absoluten Platzhirschen was diesen Sound und diese Attitude angeht.
"Pain into Power" hat mich wirklich überfahren. Da kriegt man direkt Bock auf den Pit. Die Keepers of the Faith melden sich mit diesem Paukenschlag zurück und stampfen alles in Grund und Boden. Die differenzierte und mächtige Produktion macht aus dieser Scheibe ein wahres Meisterwerk!
Ingo Holzhäuser vergibt 9,5 von 10 Punkten