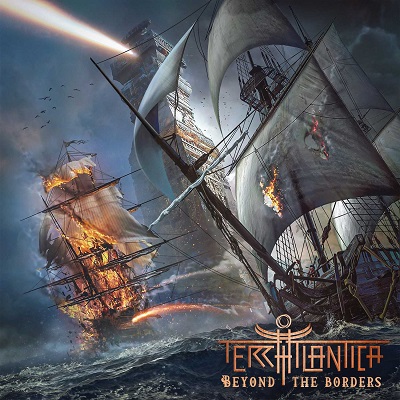 TERRA ATLANTICA
Titel: BEYOND THE BORDERS
Spieldauer: 49:51 Minuten
VÖ: 16. September 2022
Täuscht mein Eindruck oder sind die Veröffentlichungen mit schnödem, schnellem, schnörkellosen Power Metal in letzter Zeit rar geworden? Auch den deutschen Power Metaller TERRA ATLANTICA gelingt es nur in Teilen mit ihrem neuen Album "Beyond The Borders" Abhilfe zu schaffen, denn sie reichern ihren Sound mit symphonischen und Bühnenmusical-Elementen sowie Piratenmotiven an.
Nach dem kurzen orchestrierten und passenderweise `Overture´ genannten Intro gibt es die erste von mir vermisste flotte, unkomplizierte Nummer `The Scarlet Banners´ zu hören. Probleme bereiten allerdings die erwähnten, gefälligen, musicalartigen Passagen wie beim folgenden `Far From Alive´, das sich nach balladeskem Beginn zum Piratensong mit Schlagerrefrain entwickelt.
Das folgende `Beyond The Borders´ schlägt mit seinen Disney-Piratenfilm-Chören in die gleiche Kerbe, bevor bei der `Sun Of Pontevedra´ die Sonne für Symphonic Power Metal Fans (diese Chöre, geht doch!) strahlt, bevor die instrumentale Coverversion `Guns And Guns´ (aus dem Gassenhauer `Johnny I Hardly Knew Ye´) einmal mehr maritimes Flair versprüht.
Beim gemischtgeschlechtlich besetzten Duett `Just One Look´ schunkeln Walt Disney und Andrew Lloyd Webber erneut gemeinsam dem Sonnenuntergang entgegen, bevor der straighte Power Metal Stampfer `Hellfire´ erneut das Bangerherz erfreut.
Mit diversen Soundelementen, Gimmicks und Instrumentierungen reichern TERRA ATLANTICA immer wieder ihren Sound an und befeuern die Freibeuter-Atmosphäre, so dass man sich manchmal in einem neuen Fluch der Karibik-Soundtrack wähnt. Mit `Pirate Bay´ sind wir dann endgültig bei Alestorm meets Melodic Metal angekommen, allerdings ohne den Klamauk und mit einem mega-eingängigen, spanischsprachigen Refrain.
Aber das Beste kommt erst noch. Es folgen mit dem überlangen `The Great Escape´ und dem großartigen, abschließenden und mit Growls und Hammerfall-Chören aufwartenden `Take Us Home´, zwei üppig orchestrierte, bombastische und mit klassischen Motiven spielende Kracher zum sehr guten Schluss.
Ein schlüssiges Fazit fällt somit schwer, da sowohl stilistisch als auch qualitativ eine große Bandbreite abgedeckt wird. Trotz der genannten Schwächen und des scheinbar fehlenden roten Fadens ist in weiten Teilen ein enormes Potential zu erkennen, so dass "Beyond The Borders" zumindest die Toleranten und die Seeräuber unter den Power Metal Afficionados erfreuen dürfte.
Michael Gaspar vergibt 7 von 10 Punkten