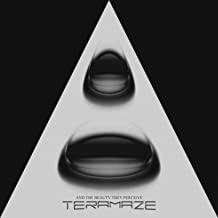 TERAMAZE
Titel: THE BEAUTY THEY PERCEIVE
Label: Wells Music/Just For Kicks
Spieldauer: 62:15 Minuten
Australische Bands muss die Pandemie noch schlimmer getroffen haben als europäische, da sie auf ihrem bevölkerungstechnisch winzigen Kontinent festsitzen und es auf Grund der strengen Lockdowns in ihrem Land überhaupt keine Möglichkeiten für Liveauftritte gibt. TERAMAZE haben aus dieser sprichwörtlichen Not eine Tugend gemacht und veröffentlichen mit "And The Beauty They Perceive" ihr drittes Studioalbum innerhalb nur eines Jahres.
Wer glaubt, dass dies zwangsläufig zu Qualitätseinbußen führen müsse, sieht sich getäuscht. Zwar ist der jüngste Output des Quartetts aus Geelong kein Konzeptalbum im Stile des Vorgängers "Sorella Minore", dafür haben die Aussies offenbar mächtig Spaß daran, sich frei von einer festen Story so richtig austoben zu dürfen.
Und so überträgt sich die Spielfreude der Musiker eins zu eins auf den Hörer, der sich hier über eine Stunde lang dem Ideen- und Abwechslungsreichtum von TERAMAZE hingeben kann. "And The Beauty They Perceive" hat von der typischen Prog-Abfahrt wie dem Opener und Titelsong, über die Halbballade 'Waves' und den Prog Pop-Hit 'Son Rise' bis zum Longtrack 'Head Of The King' alles zu bieten, was das Genre-Herz höherschlagen lässt.
Das ist ganz großes Kino, welches sich selbst hinter dem diesjährigen Top-Release des eingängigen Prog Metals "Memories & Intuition" von Shumaun kaum verstecken muss. Und genau wie jene Perle ist auch dieser Opal aus Down Under bei Just For Kicks erhältlich.
Alex Fähnrich vergibt 9 von 10 Punkten