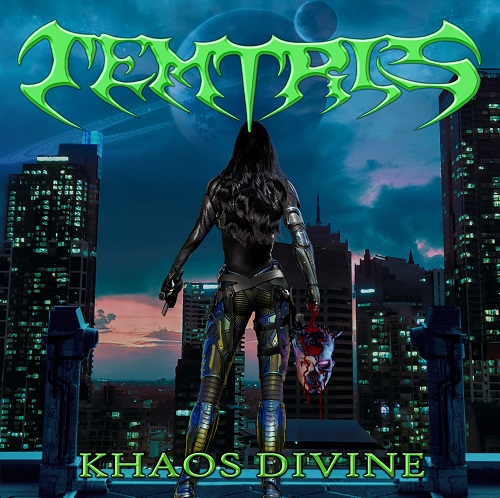 TEMTRIS
Titel: KHAOS DIVINE
Label: WORMHOLEDEATH RECORDS
Spieldauer: 49:05 Minuten
VÖ: 17. März 2023
"They're savage, they're bestial, their sonics are skull-crushing and bone-breaking… TEMTRIS is EVERYTHING you want in your metal!"
Markige Worte über die australischen Metaller TEMTRIS und ihren bereits siebten Longplayer "Khaos Divine", aber das Quintett macht ernst und hält jedes Wort davon auf dem neuen Silberling ein.
Dieser steckt voller emotionsgeladener Songs mit packenden Twin Leads, einprägsamen Melodien und eingängigen Refrains und den kraftvollen, unverkennbaren Vocals von Frontfrau Genevieve Rodda, was den unverwechselbar mitreißenden Sound der Band definiert und ausmacht.
"Khaos Divine" ist ein atemberaubendes, zeitgemäßes Konzeptalbum, welches den Hörer in eine dystopische Stadt entführt, deren Bevölkerung ein fast ewiges Leben führen kann, wenn es dafür seine persönliche, individuelle Freiheit aufgibt.
Und sowohl die rhythmische Gesangsmelodie des Titelsongs, die schnell beginnende, dann mit harten Riffs zum grandiosen Chorus führende Single `Eternal Death Machine´, die treibende Melodie und der packende Refrain von `Dreams Or Reality´ sowie das Gesamtkunstwerk, aber besonders der nachdenkliche Text von `The Lies Become The Truth´sind dann tatsächlich ganz großes Heavy Metal Kino.
Es schließt sich das etwas schwächere `The Path´ an, gefolgt vom wieder großartigen `Revenge´ mit seinen Wechselgesängen und einem langen Solo. Wieder ein grandioser Chorus und erneut das lange Gitarrensolo chrakterisieren dann `Evolution Of Hate´ und sorgen wiederum für Begeisterung.
Manchmal wünscht man sich trotz aller Qualität und Energie doch ein wenig mehr Abwechslung, wie sie das abschließende sehr schnelle beinahe thrashige `Ground Zero´ mit seinem langsamen Beginn bietet. Insgesamt aber ein großartiger Silberling mit packenden Songs und einer grandiosen Sängerin, die die richtigen Songs auf die begnadeten Stimmbänder geschneidert bekommt.
Michael Gaspar vergibt 8 von 10 Punkten