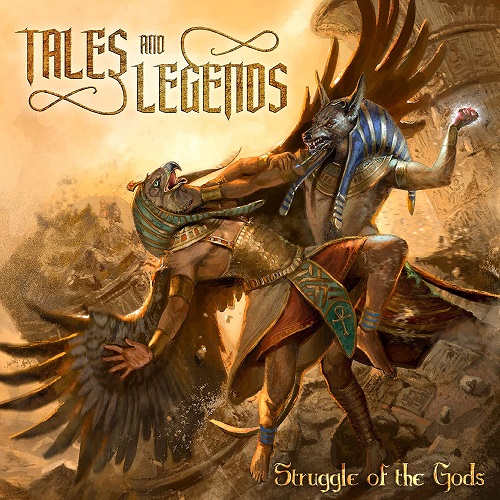 TALES AND LEGENDS
Titel: STRUGGLE OF THE GODS
Spieldauer: 45:58 Minuten
Gegründet erst 2019 von Songwriter und Keyboarder Andrea Atzori und Gitarrist Carlos Figus, legt die noch junge italienische Power Metal Band TALES AND LEGENDS ihr Debüt-Album "Struggle Of The Gods" vor. Später stießen noch Bassist Nicola Piras (Rial / Virgin Killers) und Drummer Michele Sanna (Coma / Shardana) und last but not least Sänger Patrik J. Selleby (Bloodbound, Shadowquest) zum Lineup hinzu.
Das inhaltliche und textliche Konzept dreht sich um die Gottheiten Horus und Artemis, die auf ihrer gemeinsamen Reise viele Schwierigkeiten und Kämpfe bis zur entscheidenden Schlacht gegen Wüstengott Seth in Ägypten bestehen müssen. Musikalisch gibt es schnellen Power Metal europäischer Prägung mit symphonisch-epischen Elementen und viel Keyboard-Einsatz zu hören.
Daran ist hier aber ausnahmsweise rein gar nichts auszusetzen, da zum einen gute, eingängige Tracks dabei herauskommen und das Ganze nicht mit Synthies oder Orchestrierungen zugekleistert, sondern immer songdienlich arrangiert wird. Auch das rein instrumentale 'Holy Temple' und die vielen, langen Gitarrensoli sind packend und fügen sich nahtlos ein.
Anspieltipps sind das pfeilschnelle 'Epic Ride Of Horus', das gute 'Tales And Legends', die eingängige Vorabsingle 'Land Of Thunder' und natürlich der epische, abschließende, fast zehnminütige Titelsong.
Ein rundum gelungener Dreher, dem man maximal vorwerfen kann, nicht besonders originell zu sein und vielleicht einige Jahre zu spät zu erscheinen. Fans von Rhapsody, Stratovarius oder Sonata Arctica dürfen hier aber bedenkenlos zugreifen.
Michael Gaspar vergibt 7,5 von 10 Punkten