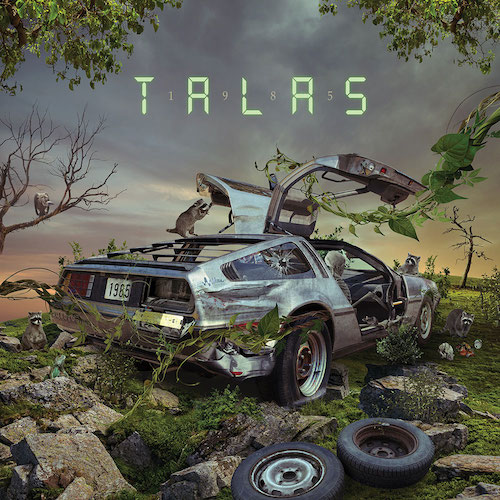 Label: METAL BLADE RECORDS
Spieldauer: 41:26 Minuten
VÖ: 23. September 2022
Die klassischen Hardrocker TALAS veröffentlichten bis zur Auflösung der Band 1985 drei Studioalben und sind beinahe 40 Jahre später zurück, um das damals entstandene Material auf dem Silberling "1985" zu präsentieren.
Bassist Billy Sheehan (UFO, David Lee Roth, Mr. Big, The Winery Dogs), Drummer Mark Miller sowie der bedauerlicherweise kurz nach den Aufnahmen verstorbene Sänger Phil Naro bilden, ergänzt um den neu rekrutierten Gitarristen Kire Najdovski das somit beinahe originale Lineup.
Mit Ausnahme des Stücks `Black And Blue´ sind alle Tracks für das damals nicht veröffentlichte vierte Album geschrieben worden und bilden nun ein offenbar sehr unterschiedlich rezipiertes Scheibchen. Denn von der überschwänglichen Lobeshymne bis zum "altmodisch, aus der Zeit gefallen und interessiert keine Sau"-Verriss ist mir diesbezüglich schon alles untergekommen.
Die Wahrheit liegt wie so oft in der Mitte, hier jedoch mit deutlicher Tendenz zum Positiven. Sind Ohrwürmer wie das grandiose `Crystal Clear´ und das mega-eingängige `I'll Take The Night´ doch auch vierzig Jahre später wahre Songperlen, die unbedingt veröffentlicht gehören. Manch ein Melodiebogen, manche Harmonie und einige mehrstimmige Gesangsassagen lassen mich mitunter an die Fab Four aus Liverpool denken.
Und natürlich hört man den Kompositionen ihr Alter an, aber das hat einerseits seinen Charme und andererseits bleibt ein starker Song ein starker Song. Somit sind AOR-Kracher wie `Do You Feel Any Better´ und das grandiose `On The Take´ wohl das, was man unkaputtbar, zeitlos und einfach gut nennt.
Und auch der einzige neuere (wobei wir nicht wissen, wann genau dieser entstanden ist) Track ist mit dem bereits erwähnten `Back And Blue´ ein solch zeitgemäßes, eingängiges Stück, das auch für die Zukunft der Band noch so einiges zu erwarten ist.
Fans von erdigem, schnörkellosem, kraftvoll groovenden 80er AOR/Hardrock dürfen mit "1985" bedenkenlos eine packende, musikalisch gelungene Zeitreise antreten.
Michael Gaspar vergibt 8 von 10 Punkten