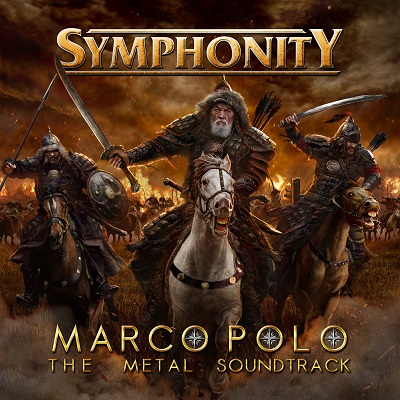 SYMPHONITY
Titel: MARCO POLO: THE METAL SOUNDTRACK
Spieldauer: 60:51 Minuten
VÖ: 20. Mai 2022
Die in Tschechien beheimatete Band SYMPHONITY bezeichnen ihren Stil als Epic Melodic Symphonic Power Metal. Das Sixpack um Gitarrist und Songwriter Libor Křivák und die beiden Sänger Mayo Petranin aus der slowakischen Hauptstadt Bratislava und Konstantin Naumenko aus Kiew präsentiert seine dritte Scheibe "Marco Polo: The Metal Soundtrack".
Das Konzeptalbum setzt dem mittelalterlichen Reisenden und den Stationen seines Lebenswegs von Venedig nach Peking und zurück ein musikalisches Denkmal, das im Wesentlichen schnellen, eingängigen Power Metal europäischer Bauart mit hymnischen Refrains und einigen symphonischen Elementen bietet.
Das Intro/Outro `Venezia´ wird etwa stimmlich von der Mezzosopranistin Jana Hrochová veredelt. Sehr gut arbeitet die Band zudem durch exotische Harmonien und Instrumente die Stimmungen und das Flair der bereisten Länder wie Persien, Armenien, die Mongolei und China in ihre Kompositionen mit ein.
Mit `Part2: Crimson Silk´, `Part 3: The Plague´ und `Part 7: I Found My Way Back Home´ sind dem Sechser zudem wirklich packende, moderne Power Metal Songs mit eingängigen Refrains und viel Tempo gelungen. Hinzu kommt das aufwühlende, wilde, über zehnminütige Epos `Part 5: Mongols´ und die beiden gefühlvollen, gelungenen Balladen `Part 6: Dreaming Of Home´ und `Part 8: Prisoner´ sind ebenfalls geglückt.
Natürlich ist das Ganze auch bombastisch und in Teilen theatralisch und wirkt manches Mal etwas aufgesetzt, aber das gehört zum Sound und zu Alben dieser Art nun eigentlich auch dazu. Ebenso driftet man manchmal ein wenig ins musical- und/oder hörspielartige ab und die erzählenden/überleitenden Worte am Ende der jeweiligen Songs stören ein wenig den durchgehenden Hörfluss.
Wer sich auf das Abenteuer einlässt, wird aber mit einer gutklassigen Scheibe mit teilweise tollen Stücken, opulenten Arrangements und zwei großartigen Sängern, die stimmlich sehr gut harmonieren und sich ergänzen, belohnt.
Michael Gaspar vergibt 7 von 10 Punkten