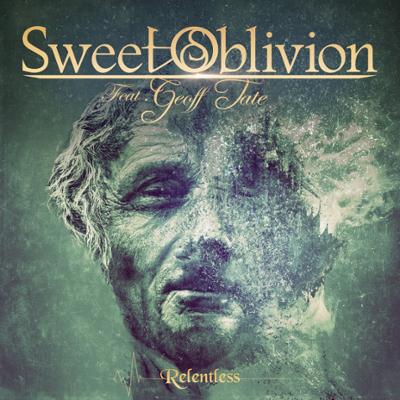 SWEET OBLIVION
Titel: RELENTLESS
Spieldauer: ca 43:00 Minuten
Über SWEET OBLIVION, das Projekt von Serafino Perugino, kann man nicht sprechen, ohne den Namen Geoff Tate und seine alte Band Queensrÿche zu erwähnen. Denn ohne die Teilnahme des Ausnahmesängers, würde wohl ein großer Teil der Aufmerksamkeit, die das Album erhält, verschwinden.
Jetzt legen SWEET OBLIVION auf jeden Fall ihr Zweitwerk vor, bei dem Tate stärker als beim Debüt in den Songwriting-Prozess involviert war. Das Ergebnis ist eindeutig: Vieles auf "Relentless" erinnert (natürlich) an Queensrÿche in den verschiedenen Phasen, erweitert aber für die alten Fans das Spektrum. Auf dem Album  bestimmen melodische, leicht progressive Metal-Songs das vorherrschende Bild, sei es beim Opener 'Once Again One Sin', bei dem entfernte Erinnerungen an das umstrittene "Promised Land" Album wach werden oder Tracks wie der powervollen Vorabsingle 'Strong Pressure' oder dem hochmelodischen 'Another Change', das man ebenfalls schon im Vorfeld hören konnte. Der auf italienisch gesungene Song "Aria", der wohl auch eine Hommage an seine italienischen Bandmitglieder darstellt, fällt durch die Klangfarbe der Sprache irgendwie aus dem Rahmen und wirkt beinahe poppig, wohingegen die Akustik Ballade 'I'll Be The One' wieder voll im Fahrwasser ist.
Eine volle Produktion setzt die zehn Songs und seinen alles überragenden Sänger vernünftig in Szene. Passt also prinzipiell für alle Fans von  Queensrÿche und dennoch. Viele Tracks sind zwar gutklassig aber nicht zwingend geschrieben aber das ist wohl das Problem wenn man an unvergesslichen Maßstäbe setzenden Alben wie "Operation: Mindcrime" und "Empire"gemessen wird.
Sven Bernhardt vergibt 7,5 von 10 Punkten