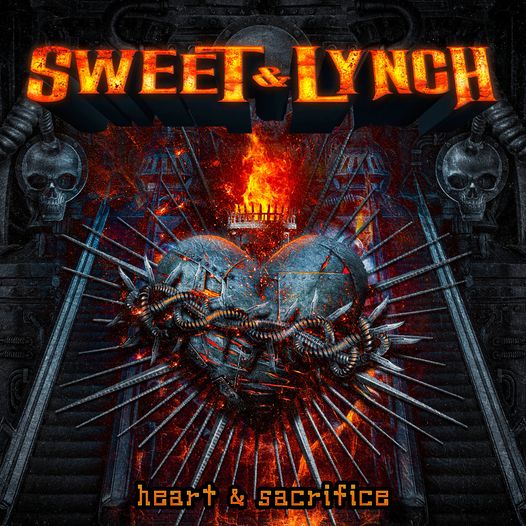 SWEET & LYNCH
Titel: HEART & SACRIFICE
Spieldauer: 51:01 Minuten
VÖ: 19. Mai 2023
SWEET & LYNCH sind das musikalische Bündnis von Sänger/Gitarrist Michael Sweet (Stryper, Iconic) und Gitarrist George Lynch (Lynch Mob, The End Machine, ex-Dokken), welche ihren dritten gemeinsamen Output "Heart & Sacrifice" vorstellen.
Neben den beiden Protagonisten übernimmt auf der neuen Scheibe Co-Produzent Alessandro Del Vecchio den Bass, während Jelly Cardarelli (Lalu) die Drums bearbeitet. Wie bereits auf dem 2015er Debütalbum "Only To Rise" und dem Nachfolger "Unified" (2017) erweist sich die Kombination aus Sweets kraftvollen, mitreißenden Vocals und Lynchs unverkennbarer Gitarrenarbeit als unschlagbares Doppel und zeitloses Hardrockgespann.
Mit dem Opener und Titelsong geht es direkt kraftvoll, eingängig und durchaus gitarren- bzw. rifflastig los, Schmuserock darf man hier nicht erwarten. Es folgt unter anderem das Trio der bockstarken Vorabsingles: das fantastische `Miracle´, der stadiontaugliche Ohrwurm `Leaving It All Behind´ und dem eher ruhigen `You´ll Never Be Alone´.
Im Folgenden bleiben vor allem das grandiose `After All Is Said And Done´ sowie der großartige, abschließende Doppelschlag aus dem ebenfalls mordseingängigen `It Rains Again´ und dem intensiv-atmosphärischen `World Full Of Lies´ in Erinnerung.
"Heart & Sacrifice" erweist sich als beinahe durchweg frischer, homogener und unterhaltsamer Silberling mit einem Dutzend zeitgemäßer, erwachsener und beeindruckender sowie brillant gesungener und gespielter Hardrocksongs.
Michael Gaspar vergibt 8 von 10 Punkten