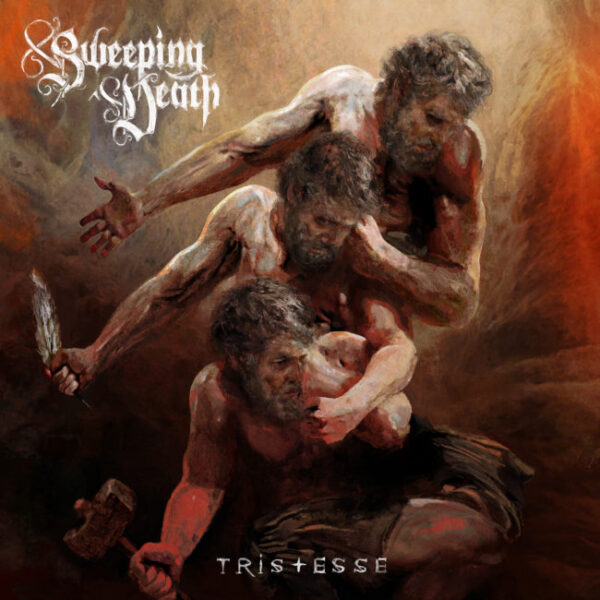 SWEEPING DEATH
Titel: TRISTESSE (EP)
Spieldauer: 19:53 Minuten
Wer den Werdegang dieser jungen Bayern von Beginn an beobachtet hat, weiß wie hart die Jungs von SWEEPING DEATH von Anfang an gearbeitet haben, um sich den guten Ruf zu verdienen, den sie inzwischen genießen. Mit nur einer EP ("Astoria") und einer LP ("In Lucid") im Gepäck hat sich das Quintett den Arsch abgespielt und bei den vielen Konzerten einige Fans hinzugewonnen.
Mit "Tristesse" will man nun den nächsten Schritt gehen und möglichst ein großes Label von seinen Qualitäten überzeugen. Wie könnte die Bewerbung von SWEEPING DEATH also aussehen? Fangen wir damit an, dass ihr Sound unverwechselbar ist. Zwar hört man Einflüsse von Bands wie Opeth, Gojira oder Tribulation heraus, diese werden jedoch zu einem ureigenen Stil verquickt.
Dieser wird in erster Linie durch die schmissige Gitarrenarbeit von Markus und Simon, mit ihren coolen Akustikpassagen, sowie den exzentrischen Gesang von Elias geprägt. Die Rhythmussektion, bestehend aus Andreas (Bass) und Tobias (Drums), der auch mal gefühlvoll in die Klaviertasten greift, ist tight wie Sau.
Schon beim Opener 'The World As Will' werden all diese Register gezogen und als würde dies nicht ausreichen, gibt`s sogar noch einen kurzen Geigenpart on top. Der Song klingt mit ruhigen Pianoklängen aus, welche wiederum den zweiten Track 'Alter The Rift' einleiten. Die Ruhe wird jedoch schnell durch ein wildes Gitarrenduell gebrochen. Mit nur fünf Minuten ist dieses Stück für SWEEPING DEATH-Verhältnisse fast kurz. Gleichwohl schaffen es die Verrückten mehr Ideen dort unterzubringen, als andere Bands für ein komplettes Album verwenden. Das Grundriff hat fast was von Fields of The Nephilim, was die düstere Grundausrichtung der Band untermauert.
Und genau mit jener Atmosphäre geht es in die letzte Runde: 'Sublime Me' ist wieder ein typischer SWEEPING DEATH-Brecher mit wahnwitzigen Klampfenabfahrten und eindringlichen Gesangspassagen, welcher höchstens durch seinen doomigen Mittelpart, mit anschließendem Black Metal-Blastbeat, ein wenig aus dem Rahmen fällt. Das schöne Coverartwork rundet diese EP wunderbar ab. Erhältlich direkt bei der Band: http://www.sweepingdeath.de.
Alex Fähnrich vergibt keine Bewertung