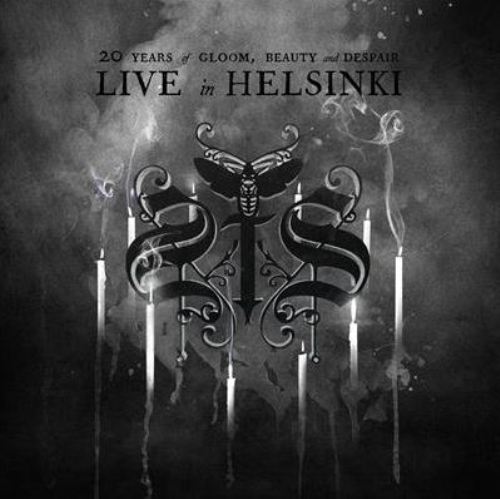 SWALLOW THE SUN
Titel: 20 YEARS OF GLOOM, BEAUTY AND DESPAIR: LIVE IN HELSINKI
Die finnische Band SWALLOW THE SUN hat schon ein relativ hohes Dienstalter erreicht und auch schon einige Longplayer veröffentlicht, ohne dass sie bisher ein Live Album für ihre Fans zu Stande gebracht hat.
Dies hat die Band nun mit dem etwas sperrig betitelten "20 Years Of Gloom, Beauty And Despair: Live In Helsinki" nachgeholt. Wer den Titel mehr oder minder aufmerksam liest und dann die Verbindung zu Finnland zieht, der kann, auch wenn er die Band nicht kennt, relativ schnell darauf kommen, dass SWALLOW THE SUN Melodic Doom Death spielen, der vor allem von seiner Atmosphäre und Düsternis lebt.
Die harschen Parts halten sich bei den Finnen in Grenzen, vertonte Melancholie überwiegt. Eigentlich ist die Scheibe zur komplett falschen Jahreszeit veröffentlicht, denn die Musik der Band erschließt sich am besten, wenn man an einem Herbst- oder Winterabend mit einem schöne Glas – wahlweise einer schönen Flasche – Rotwein vor dem Kamin/Heizung sitzt und dort das Album wirken lässt.
Century Media veröffentlichen die Live Scheibe als Doppel CD mit einem vorzüglichen Sound, bei dem lediglich die Zuschauerresonanzen noch deutlicher hätten eingefangen werden können, und kredenzen uns das Konzert auch noch auf einer mehr als ordentlich aufgenommenen DVD.
Als Fan der Band oder auch als Einstieg in den Klangkosmos von SWALLOW THE SUN ist diese Veröffentlichung bestens geeignet.
Disc 1 (CD)
1.
The Womb of Winter
2.
The Heart of a Cold White Land
3.
Away
4.
Pray for the Winds to Come
5.
Songs from the North
6.
66°50'N, 28°40'E
7.
Autumn Fire
8.
Before the Summer Dies
Disc 2 (CD)
1.
Lost and Catatonic
2.
Empires of Loneliness
3.
Falling World
4.
Cathedral Walls
5.
Plague of Butterflies
6.
Don't Fall Asleep (Horror Pt. II)
7.
Stone Wings
8.
The Giant
9.
Swallow (Horror Pt. I)
10.
Here on the Black Earth
Disc 3 (DVD)
1.
The Womb of Winter
2.
The Heart of a Cold White Land
3.
Away
4.
Pray for the Winds to Come
5.
Songs from the North
6.
66°50'N, 28°40'E
7.
Autumn Fire
8.
Before the Summer Dies
9.
Lost and Catatonic
10.
Empires of Loneliness
11.
Falling World
12.
Cathedral Walls
13.
Plague of Butterflies
14.
Don't Fall Asleep (Horror Pt. II)
15.
Stone Wings
16.
The Giant
17.
Swallow (Horror Pt. I)
18.
Here on the Black Earth
Ludwig Lücker vergibt keine Bewertung