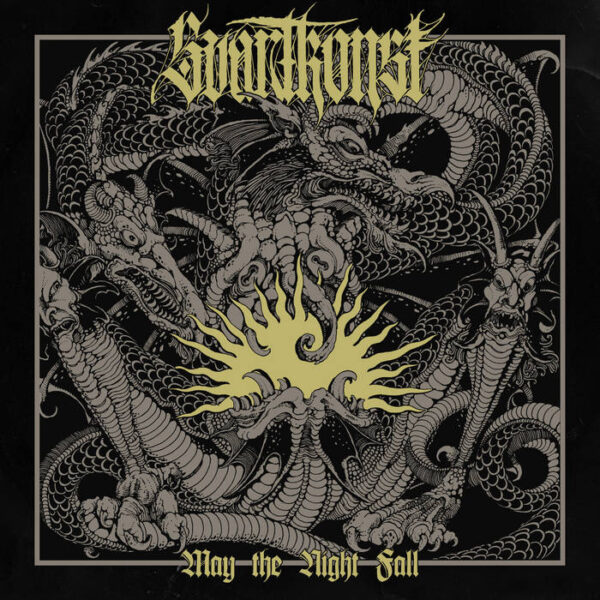 SVARTKONST
Titel: MAY THE NIGHT FALL
Label: TRUST NO ONE RECORDINGS
Spieldauer: 43:04 Minuten
VÖ: 29. September 2023
Eine Melange aus Death und Black Metal aus Schweden. Gäääähhhnnn!!! Im Falle SVARTKONST, eine ein Mann Kombo aus Härnösand, sollte der geneigte Hörer nochmal die Hörschleife bemühen. Mastermind Rickard Törnqvist kredenzt uns auf "May the Night Fall" zwischen melodischem Black Metal, der nicht selten nach Watain schreit, und HM2 Boss geprägten Death Metal schwedischer Schule aber nach bester amerikanischer Interpretation beispielsweise nach Black Breath. Dazu gesellen sich klassische Heavy Metal Parts und durchaus rockig induzierte Passagen wie man das von Bands wie Tribulation oder Wormwood zu schätzen weiß.
Ein weites Feld, das hier beackert wird und dennoch schaffen es SVARTKONST einige pointierte Songs zu komponieren. 'Breath of Satan' oder 'Straight up the Grave' transportieren ganz deutlich diesen Spirit und sind stoisch bangende Tracks. Das Album folgt insgesamt dem Soundgefüge des Vorgängers Black Waves. Allerdings ist auf "May the Night Fall" etwas kompakter arrangiert worden und hat produktionstechnisch etwas mehr Dampf in den Nüssen. Und einige Passagen wie sie beispielsweise im Titeltrack verarbeitet sind, öffnen neue Klangwelten und möglicherweise auch neue interessierte Zuhörerschichten. 
Kein schlechtes Album der Schweden, die hier ihrer Linie treu geblieben sind aber dennoch um Weiterentwicklung ihres Sounds bemüht erscheinen. Daumen hoch für diese interessante und manchmal auch nachdenkliche Scheibe.
Ingo Holzhäuser vergibt 8 von 10 Punkten