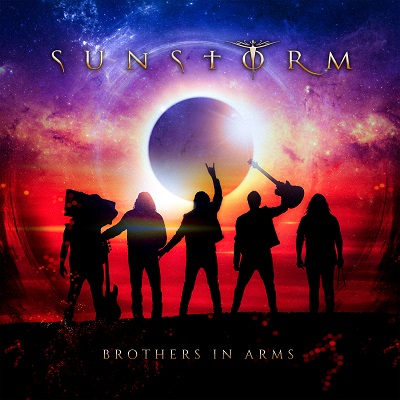 SUNSTORM
Titel: BROTHERS IN ARMS
Spieldauer: 44:39 Minuten
VÖ: 12. August 2022
Eigentlich sollte sich meine kleine Hassliebe zum chilenischen Rock- und Metal-Sänger Ronnie Romero (MSG, Lords Of Black) in der Redaktion mittlerweile rumgesprochen haben. Und doch bekomme ich in schöner Regelmäßigkeit die neuen Erzeugnisse unter seiner vokalistischen Mitwirkung auf den Tisch.
So auch das Zweitwerk "Brothers In Arms" mit der Melodic Rock/70s Hardrock/AOR-Band SUNSTORM, welches auf das letztjährige Debüt `Afterlife´ folgt und einen melodischeren Ansatz verfolgt und AOR-Sounds präsentiert. Der Infotext spricht von Rainbow und Deep Purple gemischt mit Foreigner und klassischem Melodic Rock.
Jedenfalls gehört der aktuelle Dreher wie auch schon der Vorgänger zu den besseren Outputs aus dem Hause Romero/Del Vecchio. Die neuen Stücke bieten feine Melodien, gute Songs und RR´s gekonnte Vokalpower.
Songs wie der Titeltrack, die beiden Vorabauskopplungen `Games We Play´ und `Hold The Night´ liefern packende Refrains und ausreichend Abwechslung, so dass keine Langeweile aufkommt. Darüber hinaus haben es mir vor allem die beiden balladesken Stücke `Back My Dreams´ und `Taste Of Heaven´ angetan.
Und da auch die rockigeren Nummern wie `Lost In The Shadows Of Love´ oder das abschließende `Living Out Of Fear´ Potential haben und die Synthiepower Del Vecchio´s nur selten über das Ziel hinausschießt, muss ich zugeben: starkes Melodic Rock Album!
Michael Gaspar vergibt 8 von 10 Punkten