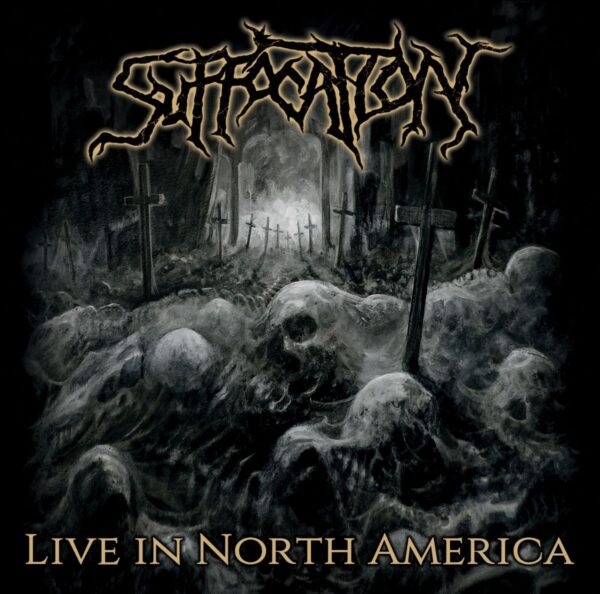 SUFFOCATION
Titel: LIVE IN NORTH AMERICA
Label: NUCLEAR BLAST RECORDS
Spieldauer: 57:57 Minuten
Wenn ich ein besonderes Death Metal Konzert nennen müsste, dann das Konzert der New Yorker Death Metal Institution SUFFOCATION im Münchner Feierwerk aus dem Jahr 2012. Unglaublich intensiv, brutal und einfach nicht von dieser Welt.
Betrachtet man diese vorliegende Live Scheibe von der letzten Tour mit Stammsänger und Gründungsmitglied Frank Mullen, dann muss ich konstatieren, dass sich hier eine fast ähnliche klangliche Atmosphäre ausbreitet. 
Präzise schon vom Start weg mit 'Thrones of Blood' schmeißen SUFFOCATION hier mit fettestem Death Metal um sich. Und es kracht und ballert, Mullen holt alles raus, ich sehe seine Chop Hand, die dem Takt der Blastbeats von Drumvieh Eric Morotti folgt. Derek Boyers Bass sticht wie immer heraus und die sägenden Riffs von Terrance Hobbs mit seinem Kompagnon Charles Errigo an den Klampfen sind Garanten für die Bolz Oden des Quintetts.
Egal ob 'Effigy of the Forgotten', 'Pierced from within' oder 'Catatonia'. Alle Tracks sind ausnahmslos grandios heruntergespielt. Auch wenn es hier nicht die Aufnahme eines einzelnen Konzerts ist, kommt die Scheibe dennoch wie aus einem Guss. Der Publikumsanteil ist jedoch recht hintergründig, was aber nicht wirklich ins Gewicht fällt. Wer Klassiker der Brutalität wie 'Jesus Wept', 'Infecting the Crypts' oder das urwüchsigste Stück Death Metal 'Liege of Inveracity' in seinem Repertoire hat, kann fast nur abräumen. Und das gelingt SUFFOCATION in der Stunde Spielzeit ausgesprochen gut!
Eine höchst kurzweilige Werkschau der New Yorker Bolzkönige und ein würdiger Abschied von Grunz-Gott Frank Mullen. Machs gut Frank, deine Chop Hand wird fehlen!
Ingo Holzhäuser vergibt keine Bewertung