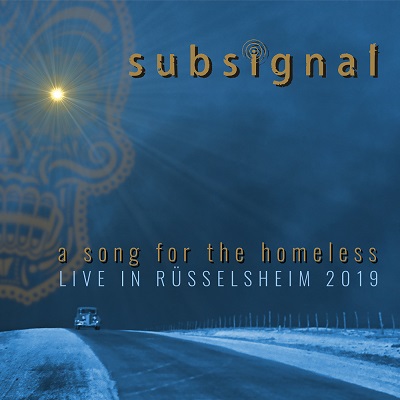 SUBSIGNAL
Titel: A SONG FOR THE HOMELESS – LIVE IN RÜSSELSHEIM 2019
Label: GENTLE ART OF MUSIC / SOULFOOD
Spieldauer: 73:50 Minuten
Der Live-Club "Das Rind" in Rüsselsheim war am 28.03.2019 Veranstaltungsstätte für das Konzert, dass uns SUBSIGNAL nun als Konserve vorlegen. Mit der letzten Live-Veröffentlichung 2012 deckten SUBSIGNAL ihre Schaffensphase unter dem neuen Bandnamen ab, das heißt "Out There Must Be Something" ist ein Zusammenschnitt der ersten beiden Alben der Band.
Jetzt könnte man meinen, dass "A Song For The Homeless" die nachfolgenden Alben stärker in den Fokus rückt, doch SUBSIGNAL legen auch mit dem neuen Live-Album Wert darauf, dass die gesamte Schaffensphase Berücksichtigung findet. So finden sich vom ersten Album "Beautiful & Monstrous" drei Songs in der Setlist und dass bei den Kritikern hochgelobte "La Muerta" gar mit vier Songs. Von den anderen Alben finden sich jeweils ein bis zwei Songs in der Setlist, so dass "A Song For The Homeless" ein schöner Streifzug durch die Veröffentlichungen von SUBSIGNAL ist.
Das Quintett gehört zur Speerspitze der deutschen Prog-Szene und nach der Best-Of-Veröffentlichung war das nächste Live-Album der logische Schritt. "A Song For The Homeless" dokumentiert einen gelungenen Abend mit einer grandiosen Songauswahl, denn dieses Live-Album ist ebenfalls eine Dokumentation der besten Songs der Band. Für Fans der Band quasi Pflichtprogramm, für Prog-Fans ein empfehlenswerter Einblick in die SUBSIGNAL-Welt.
Robert vergibt keine Bewertung