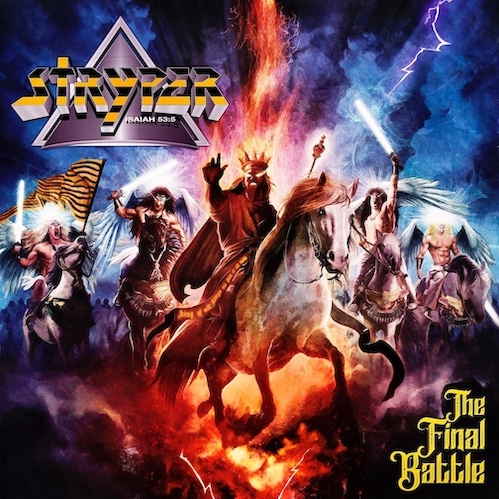 STRYPER
Titel: THE FINAL BATTLE
Spieldauer: 46:23 Minuten
VÖ: 21. Oktober 2022
Ich muss zugeben, dass ich mit dem Backkatalog der US Metaller STRYPER und ihrem Sound nicht wirklich vertraut bin, aber was man über das Quartett um Sänger/Gitarrist Michael und Drummer Robert Sweet weiß, ist, dass es sich um die wohl bekannteste, bewährteste und erfolgreichste christliche Metalband handelt.
Neu war mir jedoch, dass der Name der bibelfesten Kalifornier als Abkürzung für "Salvation Through Redemption Yielding Peace, Encouragement And Righteousness" steht, aber das sei nur am Rande bemerkt.
Der Vierer zelebriert einen wuchtigen Mix aus kraftvollem US-Metal, eingängigem Melodic Metal und klassischem Hard Rock, garniert mit seinen frommen Lyrics und dargeboten von einem tighten, eingespielten Lineup und einem begnadeten Sänger.
Vom treibenden Opener `Transgressor´ bis zum abschließenden, wohl härtesten (und einem der, wenn nicht dem besten) Track der Scheibe, der Vorabauskopplung `Ashes To Ashes´ präsentieren STRYPER druckvolle, positive Kompositionen mit Message und saustarkem Songwriting.
Und mit dem grandiosen Ohrwurm `Same Old Story´ ist der Gruppe im Namen des Herrn vermutlich einer des besten Metal-/Hardrock-Songs des Jahres gelungen.
Zu den weiteren Glanzlichtern der Scheibe gehören mit dem erhebenden Stampfer `Rise To The Call´ und der packenden Midtempo-Hymne `The Way, The Truth, The Life´ zwei weitere Stücke, die bereits im Titel den Bibelbezug deutlich machen.
STRYPER erfinden hier wahrlich nichts neu, liefern aber eine grundsolide und in Teilen hochklassige Melodic Metal Ladung mit starken bis großartigen Songs ohne Ausfälle ab.
Michael Gaspar vergibt 8,5 von 10 Punkten