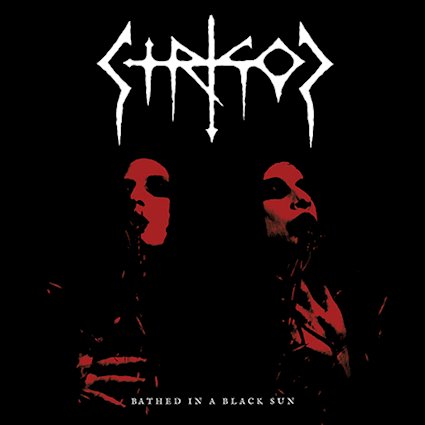 STRIGOI
Titel: BATHED IN A BLACK SUN
Label: SEASON OF MIST RECORDS
Spieldauer: 13:43 Minuten
VÖ: 03. November 2023
Gregory Macintoshs Spielwiese STRIGOI veröffentlicht eine neue EP mit fünf Songs. War der letztjährige Longplayer Viscera eine auf den Death und Black Metal fokussierte düstere Angelegenheit kommt auf "Bathed in a Black Sun" auch deutlich wieder der Hardcore in Form von Crust- und Grindpassagen aufs Tableau. Die EP beinhaltet übriggebliebene Songs aus der Aufnahmesession zum letzten Album. 
Der Titeltrack startet zäh wie schwarze Lava und könnte fast nicht typischer für STRIGOI stehen. Gregs markante Vocals, doomige Arrangements und tonnenschwerer Sound. 'The Grotesque' kloppt dann erstmal alles weg. Ein munterer Blastbeat zieht sich durch dieses knapp dreiminütige Crust/Grind Massaker. Diesem folgt dann noch ne härtere Kante in 40 Sekunden mit dem Namen 'Beautiful Stigmata'.
'A Spear in perfect Grief' fährt dann im Mittelteil ein Suffer the Children Gedächtnisriff auf. Großartig! Und auch der Abschluss 'The Construct of Misery' bratzt dann nochmal alles in bester britischer Hardcore/Crust/Grind Tradition nieder.
Empfehlenswerte EP für die Hörer, die STRIGOI eher wegen ihrer Crust-/Hardcoreneigung hören. Daumen hoch, denn hier wird viel alter knatteriger Schmutz durch die Boxen geblasen. Somit ist diese EP eine durchweg geniale und sinnvolle Veröffentlichung, da die Tracks auf der letzten Platte eher deplatziert gewirkt hätten. Saustark!
Ingo Holzhäuser vergibt 9 von 10 Punkten