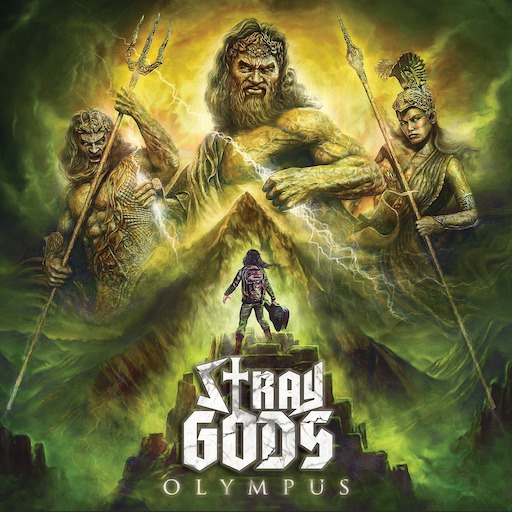 STRAY GODS
Titel: OLYMPUS
Label: ROCK OF ANGELS RECORDS
Spieldauer: 45:06 Minuten
VÖ: 23. Juni 2023
Unter dem Banner STRAY GODS lebt Bob Katsionis (Warrior Path, Serious Black, Wonders, Ex-Firewind, etc.) nur ein Jahr nach dem Debüt "Storm The Walls" mit seinen Mitstreitern erneut seine Liebe zum Heavy Metal von der Insel im Allgemeinen und Iron Maiden im Speziellen mit dem Zweitwerk "Olympus" aus.
Der griechische Mastermind, Musiker und Produzent macht kein Hehl aus seiner Vorliebe für die britischen Metal Titanen und auch kein Geheimnis aus den zahlreichen gar nicht mal so gut versteckten "Easter Eggs" aus der Ära 1986-1992, welche sich auf "Olympus" finden lassen.
Insbesondere Frontsirene Artur Almeida (Attic Demons, Marius Danielsen) liefert eine bockstarke Gesangsleistung ab und kommt dem Original manchmal so nah, dass man nochmal schnell einen Blick auf das Plattencover werfen möchte, um sich zu vergewissern, wirklich keine neue Scheibe der Eisernen Jungfrauen in den Händen zu halten.
Manchmal meint man es mit einer Tribute Band zu tun zu haben, wobei es hier wahrlich nicht um die schlechteste Referenz geht. Und wenn dabei auch noch ein so starkes Album mit acht richtig guten Songs herauskommt, wer sollte etwas dagegen haben?
Mir bleiben vor allem der grandiose Übersong `The Other Side Of The Mirror´, bei dem von der ruhigen Einleitung über das fantastische Riff und den tollen Refrain wirklich alles stimmt, der packende Opener `Out Of Nowhere´, das hymnische `Angels Of Light´ und der abschließende, über zehnminütige, epische Titelsong in bester Erinnerung.
Fazit: "Olympus" ist eine nicht besonders originelle oder innovative, aber kraftvolle, melodische und packende Dreiviertelstunde beste Metal Unterhaltung.
Michael Gaspar vergibt 8 von 10 Punkten