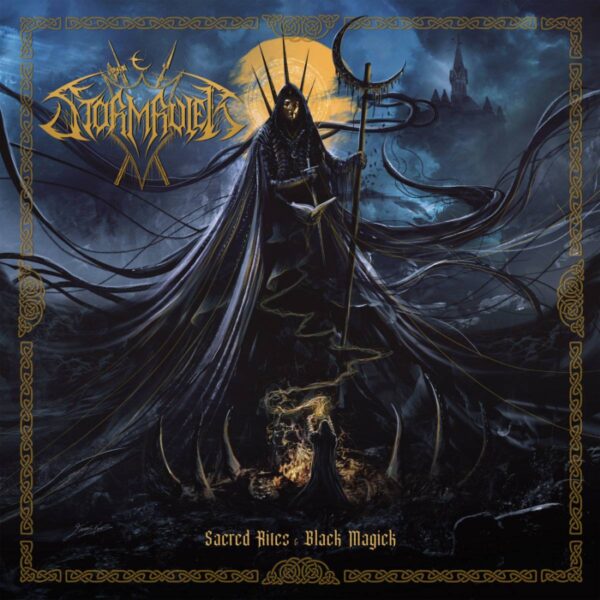 STORMRULER
Titel: SACRED RITES & BLACK MAGICK
Spieldauer: 74:24 Minuten
VÖ: 14. Oktober 2022
Album Nummer Zwei der US-amerikanischen Black Metaller von STORMRULER. Das Album hört auf den neutralen Namen "Sacred Rites & Black Magick" und erscheint bei dem österreichischen Label Napalm Records. Auch wenn der Gesamtroster von Napalm Records ja einige fragwürdigen "Metal"-Truppen beinhaltet, haben die Eisenerzer immer wieder tolle Überraschungen mit an Bord. Schon das Debüt des Duos aus St. Louis, Missouri, Under the Burning Eclipse, wusste mehr als nur zu überzeugen.
STORMRULER offerieren hier ein mächtige Platte mit insgesamt 20 Tracks. Davon sind allerdings zehn instrumentale Zwischenspiele bzw. Übergänge zwischen den eigentlichen Songs. Abermals bieten STORMRULER dem Hörer riffigen und teilweise stark melodiösen Black Metal. Traditionalisten, die Necrophobic, Dissection oder Unanimated zu ihren Faves zählen, werden sich hier weitestgehend wieder finden. Allerdings gibt es bei STROMRULER weit mehr als einen lauwarmen Abklatsch. Sie treffen präziser und tödlicher, sind kälter, rasender und wärmer zugleich. 
Was STORMRULER so interessant macht ist das Thema Dynamik. Sie schaffen einen spannenden Spagat aus verspielter Opulenz, der niemals ins Lächerliche abzudriften droht und dann eventuell noch etwaige Schalmeien oder Vögelgezwitscher auf den Plan ruft. Hier greifen STORMRULER lieber zu akustischen Arrangements und klassischen Heavy Metal Versatzstücken. Gleichzeitig ist ihre Raserei stets nachvollziehbar und erdrückend. Bestes Beispiel ist der Track 'In the Shaded Vlasian Forest', ein Song, der diese Spannbreite der Band sehr gut spiegelt. Wenngleich ich betonen will, dass hier kein schwacher Song vorhanden ist. Allesamt kraftstrotzend, mächtig und – eigentlich mag ich dieses Wörtchen nicht – episch. In manchen Momenten kommen sie den Landsmännern UADA sehr nahe, auch wenn STORMRULER gerne vermehrt auf akustische Instrumentierungen zurückgreifen.
Tolle zweite Scheibe des Duos aus St. Louis. Durchweg an die erste Scheibe anknüpfend, kurzweilig trotz der Albumlänge. STORMRULER stellen ihre überdurchschnittlichen Fähigkeiten und ihr songwriterisches Können unter Beweis. Top!
Ingo Holzhäuser vergibt 9 von 10 Punkten