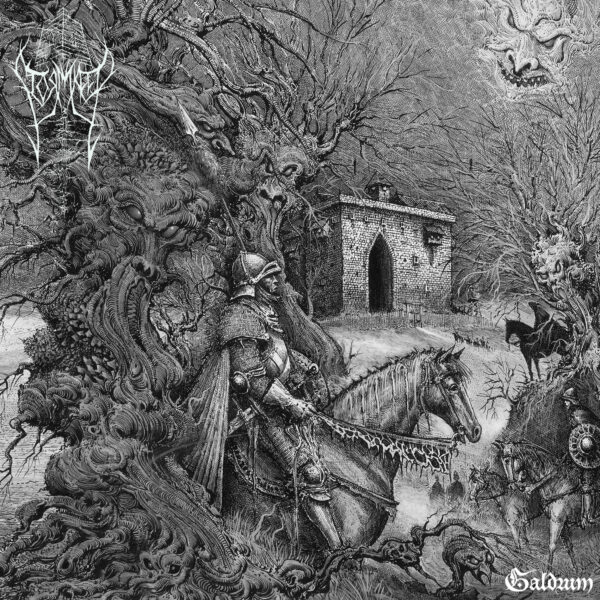 STORMKEEP
Titel: GALDRUM (EP)
Spieldauer: 32:37 Minuten
Wer gerne alte Burgen und Schlösser aufsucht, Wanderungen durch verwunschene Wälder unternimmt oder auch hoch zu Ross durch die Wildnis reitet und dann noch episch-melodischen Black Metal mag, sollte bei STORMKEEP mal mehr als zwei Ohren riskieren. War ich anfangs noch etwas skeptisch hinsichtlich der Synthteppiche, so war mit dem zweiten, na ja aber spätestens dritten Durchlauf von den – Achtung! – US-Amerikanern überzeugt.
Ja, STORMKEEP sind Amis und die hier vorgetragenen Songs hätte man eher einer europäischen Band zugetraut, etwa aus Schweden oder Norwegen, vielleicht auch aus Deutschland.
"Galdrum" so der Titel der EP, schlappe 33 Minuten für vier Songs, ist die wohl erste "richtige" Veröffentlichung der Band. Es kommt eine durchaus mittelalterliche und episch-heroische Stimmung bei den Songs auf. Die Tracks sind sehr abwechslungsreich und interessant gestaltet. Ich nenne hier mal als Orientierungshilfe das erste SATYRICON Album und erhebe damit keinen Anspruch auf Vollständigkeit, aber daran habe ich mich initial erinnert gefühlt.
Der Gesang reicht vom Kreischgesang bis zu heroischen Klargesangpassagen, Gitarren, Tasteninstrumente als auch die Rhythmussektion sind sehr gut aufeinander eingespielt. Akustische Epik wechselt mit Blastbeats und High-Speed Passagen ab, als würden STORMKEEP das schon mindestens 20 Jahre so zocken.
Die Dungeon Synths sind mir persönlich manchmal too much, passen sich aber dennoch songdienlich ein. Der letzte Song "Lost in Mystic Woods and Cursed Hollows" ist ein reines Instrumental über fast fünf Minuten. Darauf hätte man aus meiner Warte durchaus verzichten können. Dieser Abschluss trübt dann leider den guten Eindruck nochmal etwas.
Dennoch: Mit Van Records sind STORMKEEP Label-technisch sehr gut aufgestellt. Die Aufmachung der Scheibe mit einem Cover, das mich direkt hat an ABIGORs "Channelling the Quintessence…" denken lassen, wirkt stimmig zur Musik und unterstreicht deren überaus gute Qualität.
Ingo Holzhäuser vergibt 7,5 von 10 Punkten