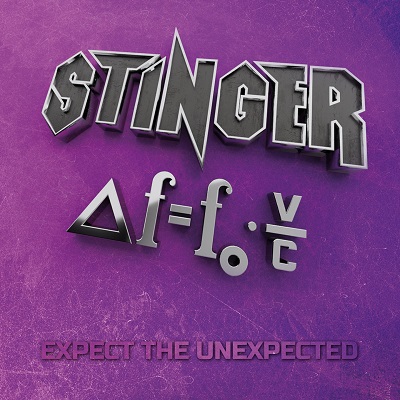 STINGER
Titel: EXPECT THE UNEXPECTED
Label: ROCK OF ANGELS RECORDS/SOULFOOD
Spieldauer: 42:28 Minuten
VÖ: 13. Mai 2022
Nach der bereits viel beachteten und gelobten Debütscheibe "Disadvantaged" (2017) und dem Nachfolger "Colourblind" (2019) stellen die deutschen Hardrocker STINGER ihren dritten Longplayer "Expect The Unexpected" der geneigten Öffentlichkeit vor.
Der Fünfer zockt schnörkellosen, glaubwürdigen Hardrock/Metal, der sich am trockenen Sound und Stil einiger bestimmter australischer Größen orientiert. Ausflüge in Bluesrock, Southern oder Melodic Rock Gefilde sorgen für Auflockerung und Abwechslung.
Das starke Anfangsdoppel aus dem rockig-flockigen ´Diggin Up The Dirt´ und dem eher melodischen ´Chasing Utopia´, welches zudem durch das Bassspiel von Billy Sheehan (Mr. Big, The Winery Dogs) veredelt wird, sorgt direkt für ein dickes Ausrufezeichen.
Der lässige Rocker `Glory And Pride´, das eher bluesig-entspannte `Down At The Water Below´ und das  gradlinige, schnelle `Roller Coaster´ setzen dies nahtlos und sowohl qualitativ hochwertig als auch äußerst unterhaltsam fort.
Das eingängige `No More´ mit Mitsing-Chorus und der Ohrwurm `Hallelujah´ stehen dem in Nichts nach und stellen sich als weitere Hochkaräter heraus. Ebensolche sind das grandiose `Son Of A Gun´ und das herrlich rotzige `Not My Part´, bevor wir mit dem abschließenden ´Two Words One Finger´ zudem noch den musikalischen Mittelfinger gezeigt bekommen.
Hochklassiger Silberling mit ebenso zeitgemäßem wie zeitlosen Sound und großartigen Tracks, der eigentlich unmöglich aus dem beschaulichen Allersberg im bayrischen Mittelfranken und nicht aus den US of A stammen kann.
Michael Gaspar vergibt 9 von 10 Punkten