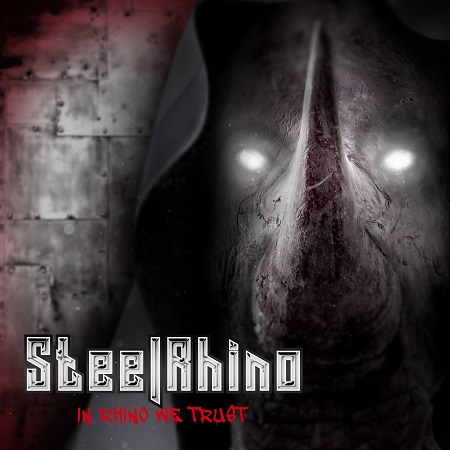 STEEL RHINO
Titel: IN RHINO WE TRUST
Spieldauer: 41:28 Minuten
VÖ: 21. Oktober 2023
"Stand Up And Shout. This Is A Revolution. Stand Up And Shout It Out!" – mit diesen aufrüttelnden Worten des Albumopeners `Stand Up And Shout´ und damit dem ersten und beileibe nicht einzigen zum Mitgröhlen einladenden "Shoutalong"-Chorus beginnt die neue STEEL RHINO Scheibe.
"In Rhino We Trust" ist der zweite Studio-Silberling der in Schweden beheimateten Band nach dem selbstbetitelten Debüt (2021) und bietet haufenweise starke Songs mit einem packenden Riff-Feuerwerk, schicken Melodien sowie ansteckender Power, Energie und Dynamik und bringt Ohrwurmgaranten und Hymnen an der Grenze zwischen klassischem Hardrock und melodischem Heavy Metal wie das grandiose `Blades´ und das majestätische `We Rise´ hervor.
STEEL RHINO bestehen im Kern aus Bandgründer und Drummer Mikael Rosengren und Gitarrist/Bassist Filip Vilhelmsson. Hinter dem Mikro steht wie bereits beim Erstling die vokalistische deutsche Allzweckwaffe Herbie Langhans (Firewind, Avantasia, Radiant, Sonic Haven), der eine fantastische, kraftstrotzende und vielseitige Performance aufs Parkett zaubert. Mix und Mastering erledigte Jacob Hansen (Dynazty, Volbeat, Evergrey, Amaranthe).
Der imposante Titeltrack wird durch das kurze, überraschend symphonische Intro `Final Stand´ und marschartige Drums eingeleitet und ist mit einigen hohen Screams und einem packenden Gitarrensolo garniert.
Bleibt unbedingt noch das mächtige Abschlussterzett aus dem düster-atmosphärischen `Dr Jekyll & Mr Hyde´, dem eingängigen `Time To Be King´ und dem ebenfalls eher hardrockigen und im wahrsten Sinne erhebenden `Ingnoring Gravity´ zu erwähnen.
STEEL RHINO erfinden das Metallrad nicht neu, aber liefern ein sehr gutes, höchst unterhaltsames, grandios gesungenes und einwandfrei produziertes Scheibchen ohne Schwachstellen ab.
Michael Gaspar vergibt 8 von 10 Punkten