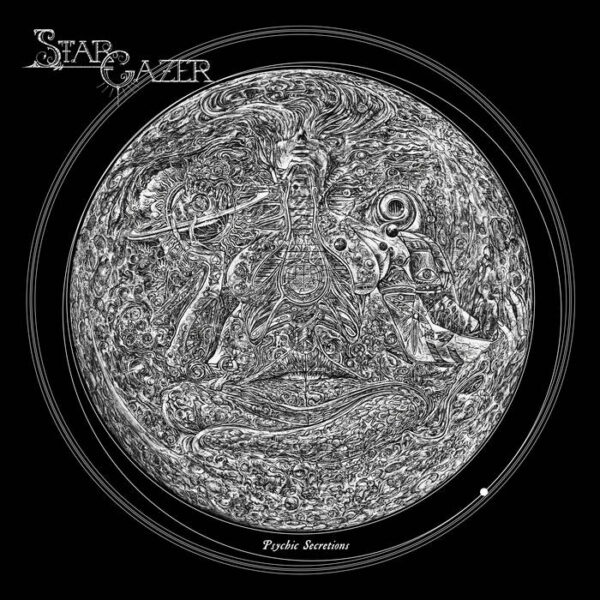 STARGAZER
Titel: PSYCHIC SECRETIONS
Label: NUCLEAR WAR NOW! PRODUCTIONS
Spieldauer: 38:41 Minuten
Die Australier STARGAZER sind bereits seit 1995 aktiv. Bislang waren sie mir komplett unbekannt. Mit "Psychic Secretions" liegen die Koalas das fünfte Full-Length Album vor. STARGAZER spielen eine interessante Mischung aus technischem sowie recht progressiven (Death) Metal mit gelegentlichen Black Metal Fragmenten. Als herausstechendstes Merkmal des Sounds der Australier ist sicherlich das Bassspiel. Immer wieder sehr vordergründig, manchmal aber auch einfach songdienlich und gerne avantgardistisch kommt hier der Tieftöner zum Einsatz. Eine – stilistische – Nähe zu Prog Death Größen wie ATHEIST, DEATH oder CYNIC ist nicht von der Hand zu weisen. Steve DiGiorgio, Robert Patterson oder Tony Choy sind hier sicherlich Quellen zur Inspiration gewesen.
An der ein oder anderen rhythmischen Ausführung und Songstruktur mache ich gleichwohl auch die Texaner ABSU aus, wenngleich diese in ihrer Gänze natürlich robuster unterwegs sind.
"Psychic Secretions" weist durchaus großartige Momente auf. Das gefühlvolle Intro zu "Lash of the Tyrants" und dessen Fortführung unter einem LSD-geschwängerten Bass oder letzte Track "Pilgrimage": Phantastisch wie STARGAZER ihr gesamtes Repertoire in diesen knapp sieben Minuten auf die Straße bringen und welchen Spannungsbogen sie hier aufbauen. Stark!
Was bleibt: aufgeschlossene Metaller jeglicher Genres sollten hier mal ein Ohr riskieren. Auch wenn STARGAZER vornehmlich im technischen Death Metal Umfeld unterwegs sind, können sie auch weitere Hörerschichten mit ihrem Sound erschließen.
Ingo Holzhäuser vergibt 7,5 von 10 Punkten