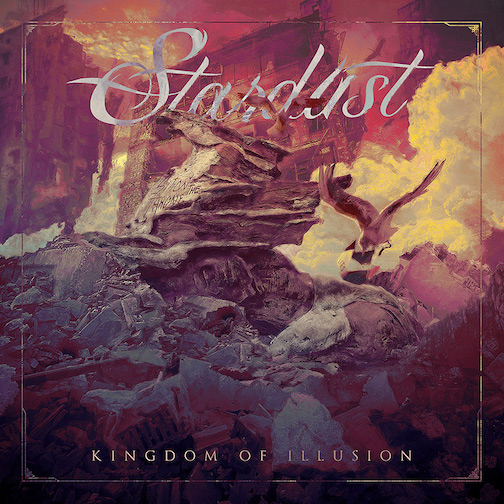 STARDUST
Titel: KINGDOM OF ILLUSION
Spieldauer: 47:18 Minuten
VÖ: 16. Juni 2023
STARDUST kommen aus Ungarn und die aufstrebenden AOR/Melodic Rocker legen ihren Zweitling "Kingdom Of Illusion" vor, dessen Sound nach Aussage der Band in eine mehr hardrockige Richtung gehen soll als zuvor.
Er folgt auf die eigenständig veröffentlichte, selbstbetitelte Debüt-EP und das Full-Length-Erstwerk "Highway To Heartbreak" (2020). Der klassische, melodische AOR der Truppe ist gekennzeichnet durch eingängige Refrains, dominante Keyboards, packende Vokalharmonien und mitreißende 80er inspirierte Gitarrenriffs.
Und das mit der etwas härteren Gangart kann man zumindest für die erste Hälfte der Scheibe schon gelten lassen, die ohnehin etwas besser zu gefallen weiß, und mit dem grandiosen Opener `War´, dem packenden `The Fire´ und `Sacrifice´ mit seinem Ohrwurmrefrain und einem schicken Solo beste Hardrockware bereithält.
Dies setzt sich zunächst mit dem atmosphärisch-eingängigen `Love Sells´ und der treibenden Hymne `Heroes´ nahtlos fort. Dann allerdings wird es und das zeigen schon Songtitel wie `One First Kiss´ und `Make Me Feel Your Love´ ein wenig schnulzig und deutlich softer als zu Beginn.
Doch mit dem eindeutig zweideutigen Kracher `Ain't No Woman´ kriegen STARDUST wieder die rockige Kurve. Und auch eine gewisse `Sarah´ darf sich glücklich schätzen, dass ihr ein so schicker AOR Ohrwurm gewidmet wurde.
Den Abschluss eines insgesamt gutklassigen, modernen Melodic Rock Silberlings bildet die hymnische Ballade `Don't Know What You Got (Till It's Gone)´, die sich brillant in die Riege der größtenteils gelungenen Songs einreiht.
Michael Gaspar vergibt 7,5 von 10 Punkten