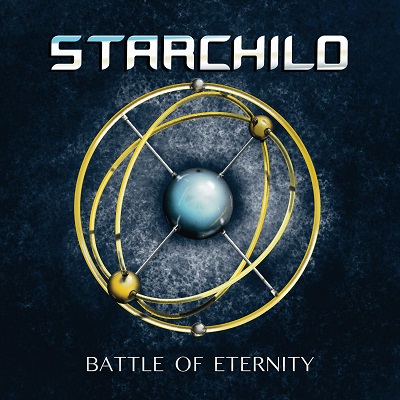 STARCHILD
Titel: BATTLE OF ETERNITY
Label: METALAPOLIS RECORDS
Spieldauer: 42:40 Minuten
VÖ: 28. Oktober 2022
Die deutsche Metalband STARCHILD wurde 2014 von Sänger/Gitarrist Sandro Giampetro gegründet und lässt nun dem selbstbetitelten Debüt (2014) und dem Zweitwerk "Killerrobots" (2019) den dritten Longplayer "Battle Of Eternity" folgen.
Dabei bewegt sich der durch Tom Nendza (Bass ), Andi Pique (Keyboards) und Drummer Sascha Barasa Suso komplettierte Vierer in der Schnittmenge von Melodic Metal und Hardrock/AOR. Die neuen Stücke sind hymnisch und melodisch, lassen insbesondere den Gitarren Platz zur Entfaltung und für das ein oder andere Solo und werden vom Fronter einwandfrei gesungen.
Oft geben die üppigen Synthies den Ton an und werden gar orchestral wie bei der balladesken Hymne `The Land Of Ice And Snow´. Leider sind Kracher wie der gute Titelsong, die Vorabauskopplung `Silver Rain´ und der atmosphärische Ohrwurm `Errors´ deutlich in der Unterzahl.
Zudem weiß die ziemlich aus der Art schlagende, flotte Power Metal Nummer `We´ve Been Through The Fire´ mit am besten zugefallen. Die übrigen, sicherlich nicht schlechten Stücke, sind doch ein wenig nichtssagend, nicht memorabel genug und lassen den Hörer trotz aller musikalischer Qualität und teilweise eingängiger Refrains (`House Of Ghosts´) relativ kalt und unberührt.
Michael Gaspar vergibt 6,5 von 10 Punkten