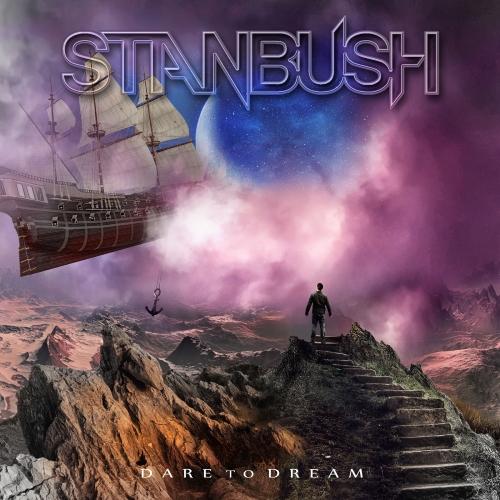 STAN BUSH
Titel: DARE TO DREAM
Spieldauer: 47:16 Minuten
Da geht dem alten Sack in mir doch ein Licht in der Hose an, oder so. Viva la Cliché!
STAN BUSHs beste Zeiten, also zumindest, wo er auch ausserhalb Amerikas musikalisch wahrgenommen wurde, dürften mit seiner kurzlebigen Band Barrage Mitte der 80er gewesen sein. Ansonsten war und ist er bis heute umtriebig als Solo-Künstler und, unter dem Radar, als Songschreiber und Komponist für Werbejingels und einigen mehr oder weniger bekannten Seriensoundtracks unterwegs. Für seine Art Musik, 80er-AOR-Radiorock, muss man leider attestieren, hat er die Voice, die Skills aber not the Look. Ohne ihm zu Nahe treten zu wollen, er sieht auch auf den aktuellen Promofotos so aus, wie der grummelige, alleinstehende ältere Nachbar in einem amerikanischen Suburb. Und der hört beim Laubfegen eben STAN BUSH.
Und so wird von STAN BUSH auf seinem neuen Album 'Dare To Dream' ein wahres musikalisches Clichéfeuerwerk an 80er Radiorock in der Schnittmenge von Bryan Adams und Foreigner abgebrannt, dass es eine wahre Freude ist. Man lasse sich nur die Songtitel auf der Zunge zergehen: u. A. Born To Fight, The Times Of Your Life, A Dream Of Love, Heat Of Attack, Dream Big, True Believer, Never Give Up, Home. Na toll, jetzt sind mir beim Vorlesen Pöhlermatte und Schnorres gewachsen. Was nicht schlimm ist, bin ich doch jetzt sowieso gerade in einem 80er-Jahre Van-Damme-Film gelandet. Kein Wunder, für zwei dieser Machwerke hat STAN BUSH auch Songs zum Soundtrack beigetragen.
Und jetzt kommts, ich find das toll! Ja, jeder Songtext, jeder Aufbau, jedes Gitarrensolo kommen einem sehr bekannt vor, aber eben aus längst vergessener Zeit. Und in Zeiten von Serien wie 'Cobra Kai' und 'Stranger Things' könnte das sogar Erfolg haben. Ach ja, und das Cover ist auch geil. Punkt.
In diesem Sinne, "In the heat of the battle, only the strong survives!"
Dirk Eckhard vergibt 8 von 10 Punkten