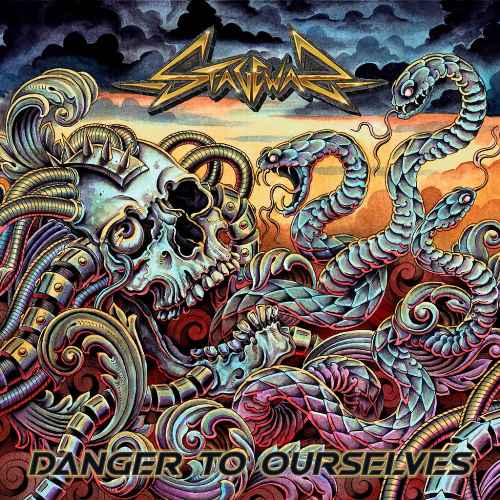 STAGEWAR
Titel: DANGER TO OURSELVES
Spieldauer: 38:55 Minuten
Erbarme….zu spät…die Hesse komme…nun, so schlimm wie es sich nach dem alten Motto der Rodgau Monotones anhört, ist es bei STAGEWAR glücklicherweise nicht.
Denn die Jungs aus dem hessischen Neu-Anspach kredenzen uns hier eine durchaus gepflegte Thrash Harke. Fette Riffs, solides Rhythmus Fundament und die rauen Vocals von Dominik passen in Kombination zu der ballernden, nicht zu modernen, Produktion gut zusammen.
Und fette Thrash Songs können die Jungs auch schreiben. Das nach schleppendem Riffing von einem coolen Drum Groove dominierte 'Box Of Dirt' mit seinem hymnischen Part, das pumpende 'Follow Me' und das alles zerstörende aufeinanderfolgende Triple aus dem nach hymnischen Einstieg treibenden Mid Tempo Banger 'Enough Is Enough', dem stampfenden, zum Ende hin fast melodischen 'Hands Of Time' und dem von fetten Riffing eingeleiteten 'Nothing For Nothing' zeigen jedenfalls, dass sich die deutschen Thrashern aus der vielmals zitierten zweiten Reihe nicht hinter der Konkurrenz aus Übersee verstecken müssen. Abwechslung jedenfalls ist auf "Danger To Ourselves" groß geschrieben.
Scheiben wie diese zeigen, dass der deutsche Thrash Underground nach wie vor lebendig ist. Support the Underground!
Ludwig Lücker vergibt 8 von 10 Punkten