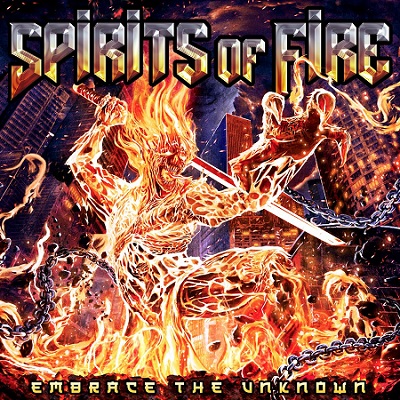 SPIRITS OF FIRE
Titel: EMBRACE THE UNKNOWN
Spieldauer: 64:54 Minuten
VÖ: 18. Februar 2022
Mit den Heavy Metallern SPIRITS OF FIRE hat sich Sänger Fabio Lione (Angra, Ex-Rhapsody of Fire), der Tim "Ripper" Owens ersetzt, welcher auf dem selbstbetitelten Debüt zu hören war, ein ungewöhnliches, neues bzw. weiteres Betätigungsfeld gesucht.
Das übrige Lineup der Band besteht nach wie vor aus Gitarrist Chris Caffery (Savatage, Trans-Siberian Orchestra), Basser Steve DiGiorgio (Testament, Death, etc.) und Mark Zonder (ex-Fates Warning, Warlord) am Schlagzeug.
Natürlich sind vom Ausnahmesänger hier andere Qualitäten gefragt, als bei seinem gewohnten Power Metal-Hintergrund. Seine HM-Vocals passend zum "Classic Priest meets Savatage" Sound des Quartetts legt Lione gewohnt dramatisch-theatralisch, aber durchaus gekonnt an.
"Embrace The Unknown" hat eigentlich alles – gute Riffs, einen fantastischen Drummer und Sänger, grandiose Soli – zu bieten, was das Metalherz begehrt. Und doch wird man das Gefühl nicht los, dass vieles Stückwerk ist und bleibt, und dass hier zwar vier Ausnahmekönner am Werk sind, aber keine eingespielte und homogene Mannschaft auf dem Platz steht.
Mit den drei Vorabsingles `Embrace The Unknown`, `Into The Mirror`und  `A Second Chance` kann und möge sich jeder selbst ein Bild davon machen. Empfohlen werden können das packende `Into The Mirror` sowie der gelungene Titelsong, vor allem aber das abschließende, über siebenminütige `Epos Out In The Rain`.
Fazit: eher mittelprächtiger, nicht immer überzeugender Zweitling mit nur wenigen Glanzpunkten. Bei über einer Stunde Spielzeit wäre weniger vielleicht mehr gewesen.
Michael Gaspar vergibt 6 von 10 Punkten