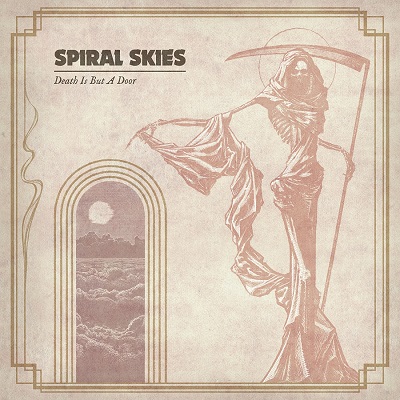 SPIRAL SKIES
Titel: DEATH IS BUT A DOOR
Spieldauer: 43:44 Minuten
VÖ: 25. März 2022
Das schwedische Quintett SPIRAL SKIES zelebriert eine betörende Mischung aus 70er Psychedelic/Vintage Rock, 80er Metal mit Doom-, Folk- und Fuzz-Einflüssen, in deren Mittelpunkt die faszinierende Stimme von Frontfrau Frida steht.
Auf das Debütalbum "Blues For A Dying Planet" (2018) folgt nun der Zweitling "Death Is But A Door" mit neun nagelneuen Tracks, auf denen sich mal schnelle, mal getragene Riffs mit den genannten Vibes und jeder Menge Dunkelheit und Melancholie vermischen.
Anspieltipps sind definitiv der melodische, schnelle Opener `The Endless Sea`, das sehr gitarrenlastige, treibende `Somewhere In The Dark` sowie die ebenfalls rifflastige, aber auch aufregend doomige Sabbath-Referenz `Heart Of Darkness`.
Die Frontfrau offenbart alle Variationen ihrer vielschichtigen, ausdrucksstarken Stimme von glasklar über kraft- und geheimnisvoll bis zu dunklen Schreien in `Time`. Insbesondere im abschließenden `Mirror Of Illusion` mit melancholisch-emotionalem Beginn und großer Steigerung darf sie nochmal alle Facetten ihres Organs auspacken und songdienlich einsetzen.
Trotzdem fehlt es "Death Is But A Door" ein wenig an Power und Abwechslung, mit Metal hat die Scheibe letztlich nicht viel am Hut. Sie bietet jedoch einen durchgehenden roten Faden und solide Songs, die mit jedem Durchlauf ein wenig wachsen. Fans von Lucifer, Blues Pills, Coven oder auch The Devil´s Blood sollten ruhig mal reinhören.
Michael Gaspar vergibt 7 von 10 Punkten