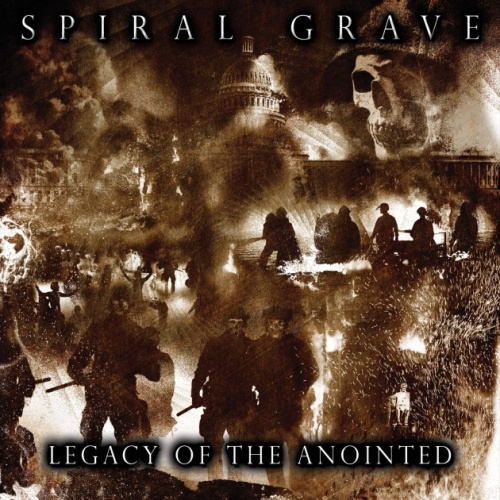 SPIRAL GRAVE
Titel: LEGACY OF THE ANOINTED
Spieldauer: 45:06 Minuten
SPIRAL GRAVE kommen aus dem eher beschaulichen und für Metal Kapellen nicht gerade übermäßig bekannten Virginia. Dass dort auch Metal zelebriert wird, bezeugen die Jungs aus Maryland auf ihrem Debüt Langeisen, nach vorab veröffentlichten vier Singles.
Aufgrund der düsteren Grundstimmung und des Gitarrentunings und Riffings bezeichnen sich nicht zuletzt SPIRAL GRAVE selbst als Doom Metal. Jedoch muss ich nach Einfuhr des Longplayers "Legacy Of The Anointed" attestieren, dass das Quartett alles andere als nur im SlowMo Bereich unterwegs ist.
SPIRAL GRAVE geben häufig ordentlich Gas, variieren dabei  geschickt das Tempo und das, ohne wirklich "un-doomig" zu werden.
Tracks wie der groovige, im angezogenen Tempo daher kommende Opener 'Nightmare Of The May Eve (DunwichPt.1)' mit seinem teils hymnischen Riffing, das auch für Doom Verhältnisse eher schnelle 'Out Of My Head' mit seinem coolen Drum Groove zum Ende des Songs und das zwischen schleppenden, Mid- Tempo und schnellen Passagen wechselnde, teils sehr melodische 'Tanglefoot' sind richtig gutes Futter für die Doom Fraktion der Headbanger Gemeinde, aber auch für traditionelle Metaller durchaus geeignet.
Zwar ist auf der Scheibe noch nicht alles Gold, was glänzt, für ein Debüt allerdings machen SPIRAL GRAVE schon vieles richtig.
Ludwig Lücker vergibt 7,5 von 10 Punkten