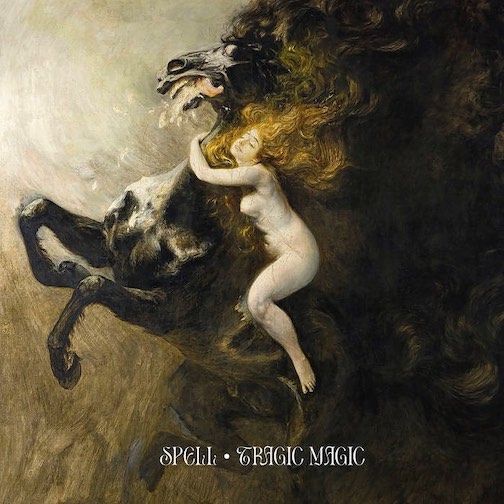 SPELL
Titel: TRAGIC MAGIC
Spieldauer: 38:27 Minuten
VÖ: 28. Oktober 2022
Neben einem Haufen Arbeit ist das Schreiben von Rezensionen natürlich auch ein steter Quell der Freude und Inspiration, besonders wenn man dabei unerwartete Aha-Erlebnisse und positive Überraschungen erleben darf. Im Falle der kanadischen Metaller SPELL ist dies sowohl in stilistischer als auch in qualitativer Hinsicht der Fall.
Die durch den Weggang von Gitarrist und Keyboarder Graham McVie vom Trio zum Duo geschrumpfte und nunmehr nur noch aus den beiden Brüdern Cam Mesmer (Vocals, Bass, Rhythmusgitarre) und Al Lester (Vocals, Drums, Leadgitarre) bestehende Band legt den neuen Silberling "Tragic Magic" vor.
Der Sound der neuen Songs, den die beiden selbst gerne als "Hypnotic Heavy Metal" bezeichnen, wird durch esoterische und psychedelische Stimmungen und progressive Einflüsse sowie jede Menge 60s/70s Rock Vibes gekennzeichnet. Referenzen von Blue Öyster Cult, Camel und King Crimson bis zu Candlemass sind unüberhörbar.
Auffallend sind die großartigen Melodien, Riffs und Bassläufe und die starken, zwischen den beiden Protagonisten aufgeteilten Vocals. Packende Refrains, betörende Melodien und eine melancholische Atmosphäre sorgen für einen hohen Wiedererkennungswert.
Die Songs sind packend und kompakt, nur zwei von ihnen überschreiten die Vier-Minuten-Marke, darunter die progressiv-mitreißende Vorabsingle `Watcher Of The Seas´, einer der Höhepunkte der Scheibe. Auch der flotte Einstieg `Fatal Breath´ beeindruckt und wird durch den folgenden grandiosen Ohrwurm `Ultraviolet´ direkt bestätigt.
Weitere Anspieltipps: das ebenfalls vorab veröffentlichte und enorm eingängige `Fever Dream´ sowie das vor allem mit seinem, kraftvollen, mehrstimmigen Gesang glänzende `Sarcopahgus´.
Michael Gaspar vergibt 8,5 von 10 Punkten